This article will look at the various aspects of living in Qatar.
If you are looking to invest in expat-specialised solutions or have any questions, don't hesitate to contact me or use the WhatsApp function below.
The best time to make financial plans as an expat is just before you move, or after newly arriving.
Introduction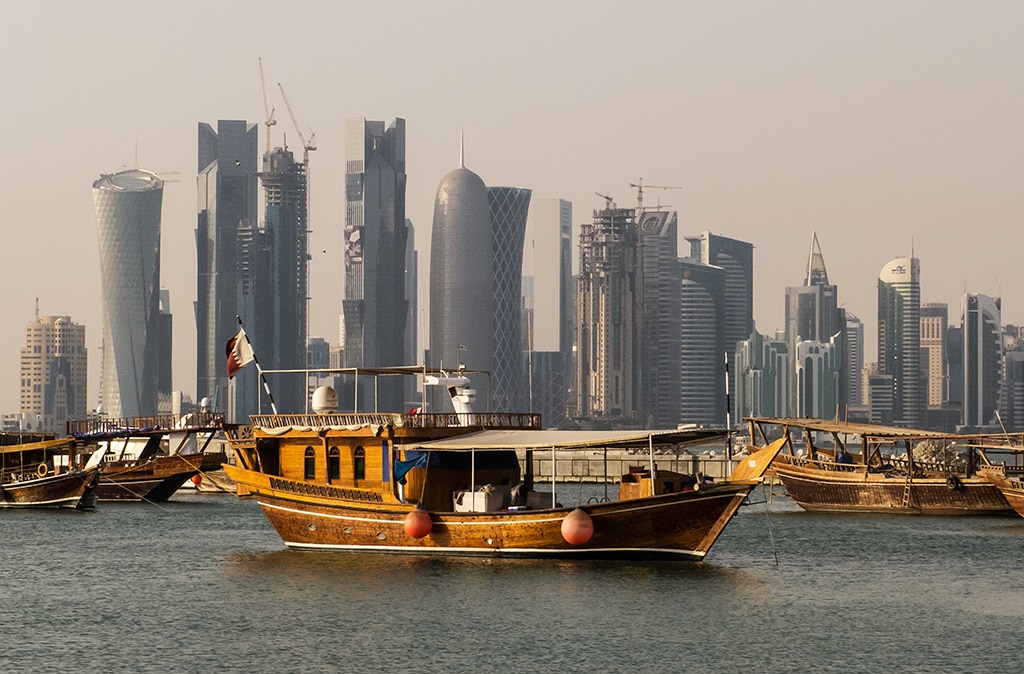 Qatar is often called a paradise on earth due to its climatic conditions and well-developed economy. That is why immigration and life in Qatar are of such interest to citizens of countries from all over the world.
The cost of living in Qatar, its salaries in 2020 allow literally every resident of the country to live well. Prices in Qatar are on the same line with local salaries.
Doha is slated to host the 2022 FIFA World Cup. Many projects are being implemented to build 12 stadiums, increase the number of hotels along with their size, and modernize the transportation system.
A contribution of $ 20 billion is planned to be made in the road network alone. There is also a plan to build a new city that will become a place of living for 200,000 people.
Qatar is a country where, along with the famous oriental hospitality, you will see all the versatility of today's civilization, blurring the boundaries between countries and peoples. This is a whole kaleidoscope of cultures, where new experiences and amazing adventures await you.
Below are some facts about Qatar:
Qatar is one of the safest countries in the world according to the Global Peace Index.
Qatar is one of the richest countries in the world and the leader in terms of gross domestic product (GDP) per capita.
Qatar is the third in the world in terms of natural gas reserves, the sixth largest exporter of gas in the world and a major supplier of oil and oil products.
Qatar ranks the 158th place out of 197 in terms of territory, the area of ​​the state is only 11 586 square meters.
The length of the coastline of Qatar is 563 kilometers.
Qatar has unique museums in the Middle East, some of which are UNESCO World Heritage Sites.
A survey of 46,500 cruise passengers who visited Qatar in 2017 shows that 92.7% would recommend visiting the country to their relatives and friends; 91.5% expressed a sense of security; 89.3% expressed satisfaction with the places and places of interest they visited; 78.2% expressed their satisfaction with the quality of service.
In 2022, Qatar will host the World Cup for the first time in the Middle East. The best teams in the world will play in 8 stadiums located close to each other, so fans can easily attend three matches in a row in one day.
The state of Qatar is located on the Qatar Peninsula in the northeastern part of the Arabian Peninsula. It borders on Saudi Arabia in the south, in the north, east and west, the coast of the country is washed by the waters of the Persian Gulf. In the northwest it has a maritime border with the Bahrain Islands, in the southeast – a maritime border with the UAE.
The population of Qatar is around 2.782 million (2018) people. Indigenous Qataris make up no more than 15% of the population. It is possible to obtain Qatari citizenship only if both parents are citizens of Qatar.
The official language is Arabic. English is widely spoken. The staff of tourism sphere speak many other languages.
Until recent times, Qatar was a closed country, and it was almost impossible for tourists to get into. But now Qatar is developing its tourism industry.
To immigrants in Qatar are wary. Qatar, like other countries of the Persian Gulf, did not sign the Geneva Convention, therefore, there is no refugee status in the country. Citizens of other countries who came to Qatar to seek shelter are considered simply migrants and cannot count on material or other kind of assistance.
Pros and Cons of life in Qatar
First off, let us understand the advantages and disadvantages of living in Qatar. The positive aspects include the following:
High wages. That is true, just one clarification needs to be made here – salaries are high either for local residents or for narrow, in-demand specialists. For an immigrant without special skills working in the service sector, the salary will be 400-600 US dollars, while a Qatari citizen in the same position will receive at least three times more.
Safety. Qatar is one of the quietest countries in the region; terrorists are only talked about in foreign news. Crime is at a very low level, you can calmly walk at night not only in the center of the capital, but also on the outskirts of the city. And this is despite the relatively small (compared to the total number of residents) number of representatives of the security agencies.
Tourist attraction. The state is rich in unique architectural structures. The capital of Qatar, Doha, is itself a masterpiece of building art with its two-store buildings and mesmerizing skyscrapers.
You can get an unforgettable experience from visiting a local amusement park, a zoo, unique for the climate and desert area. An aesthetic pleasure will give you a tour in the National Museum of Qatar.
It is necessary to clarify that none of the above can be photographed, since this action is prohibited by law (in relation to attractions, as well as police and military facilities).
Leisure activities. As mentioned above, the service sector is widely and professionally developed in the country. The tourism industry is not as developed as, for example, in the United Arab Emirates, but a person with a sufficient amount of money will not get bored in Qatar.
Extreme safari, diving, vacation on the shores of the Persian Gulf – all this will not hit the pocket of a tourist, a local resident, or even an immigrant who has decided to forget about work life for a day.
Shopping. Although Qatar is an "expensive" country, it can be quite attractive in terms of buying cheap things. There are shopping centers all over the country where you can stock up on inexpensive textiles and jewelry. If the shopping trip falls on a sale or "discount day", then there is a high probability that the buyer simply cannot take away all the purchases. But it is not recommended to buy electronics or high-tech goods, primarily because of the price.
Unfortunately, there are also negative aspects in this country which are listed below:
In terms of the terrain, the entire territory of Qatar is a desert. The weather is also not very diverse – dry and hot gives its way to very hot and very dry. Thus, a person who does not tolerate the heat will not stay in this country for health reasons.
Life in Qatar is very expensive. If the employer does not cover the accommodation and food of the expat, then coming to Qatar on a work visa will practically lose its meaning.
Qatar, in contrast to the same UAE, is a rather radical Islamic state. Associated with this are a bunch of prohibitions for residents and immigrants. For example, if a visiting worker is caught in a "not very sober state", deportation to his historical homeland will follow within a very short time. Stricter restrictions apply to the month of Ramadan, when the use of any food or smoking in public places is prohibited.
Problems with obtaining citizenship. It is extremely difficult to obtain Qatari citizenship for an immigrant. If the issue of obtaining a long-term work visa or even a residence permit can be resolved, then serious difficulties will arise with full citizenship. Firstly, the applicant will be required to live in Qatar for at least 20 years (if the applicant is Arab, then 15 years). Secondly, the applicant must have legal sources of income and no complaints from law enforcement agencies. And thirdly, the immigrant must pass the Arabic language proficiency test.
Cost of living in Qatar
Qatar is recognized as one of the most expensive countries in the East. Real estate prices in 2020 are high here, renting even a small apartment really hits the budget.
Let's list each sphere costs briefly by points:
Transportation: 5-7 riyals by public transport (approx. 1-2 dollars), taxi will cost you 40-70 riyals (10-20 dollars).
Food: lunch at a restaurant, where the average prices are 150-190 riyals (40-50 dollars).
Hotel: a room in a two or three- star hotel will cost 700-1200 riyals (approximately 170-300 dollars).
Renting and buying a home: As mentioned, property prices are extremely high. A square meter of an apartment in a residential area will cost approximately 7000 riyals (1800 dollars). Renting a medium-sized two-room apartment costs about 4000-5000 riyals per month ($ 1100-1400 dollars).
Utilities: on average, you have to shell out about $ 268.5 per month.
Medical care: one appointment with a therapist costs about 200 riyals ($ 54).
Permits in Qatar
A work permit can only be submitted by an individual or legal entity registered with the employment authorities. These applicants are usually sponsors of prospective employees. Sponsorship and immigration are linked in Qatar. Qatar has a sponsorship system, known as kafala which means all non-Qatari's need a sponsor and can only work for others with their sponsor's written consent, which is known as a No Objection Certificate (NOC).
Without a NOC the employee is required to leave Qatar for two years before they can be re-employed within Qatar.
After receiving your immigration card, you must register with the Department of Labor and apply for a visa. The gender, nationality and position of the employed workers must be indicated. Once approved by the Department of Labor, copies of passports with the appropriate education certificates must be submitted to the Department of Immigration in order for each worker to be registered with his or her work permit. If all goes well, the employee can obtain a residence permit.
Banking in Qatar
The banking system in Qatar consists of local, regional, international and Islamic banks, with more than 250 branches and 650 ATMs across the country. Major credit cards are commonly approved and travelers to Qatar can reach their home accounts by using their ATM cards.
Here are some regular facilities that banks in Qatar provide:
debit/credit cards
standing orders
personal loans
auto loans
money transfers
online banking
opportunities for investing in multiple currencies such as US dollars, pounds sterling, and Euros.
Opening a bank account
Most banks in Qatar provide an option of opening a bank account even before your arrival to the state. This can be accomplished online and allows funds to be transferred to your account upon your arrival. The bank will usually provide a debit card and mobile SIM when you open an account.
Housing in Qatar
There are various housing options in Qatar, and for most expats that involves different forms of rented accommodation. Many employers provide housing or a housing allowance.
Real Estate agents can help you find the type of accommodation and advice you about the best locations for your needs. If you prefer to search yourself, you have several options. The classifieds sections of the local newspapers as well as the Qatar Living site all have accommodation sections.
Real estate prices in 2020 range from $ 180,000 to $ 300,000 per housing unit. They depend on the location, the condition of the dwelling and other factors. Of course, the above is only an approximate cost. Housing prices are constantly jumping, and not only in Qatar, but all over the world. Buyers of real estate are considered investors and are given the rights to use the purchase for commercial purposes.
You can transfer the lease to another person or legal entity, sublet the premises, etc. Please note, that before buying real estate, an expat must first obtain a Qatari visa. There is no special investor visa yet and there are not many ways to immigrate to Qatar. Any option requires careful preparation and constant communication with the sponsor – a citizen of Qatar. However, if everything is organized correctly, life there will become truly heavenly.
It is almost impossible to own a house here: only Qataris have the right to buy, except for the Pearl area, where expats are allowed to buy real estate, but it will cost crazy money. The cheapest option – a studio of 70 square meters – will cost at least a million riyals and that is not counting commissions and other related expenses.
Normal apartments with two or three rooms cost from 2 to 3.5 million riyals. The price usually includes parking and all the advantages of a condominium: swimming pool, gym, 24-hour concierge and cleaning services.
Healthcare in Qatar
Qatar has a highly developed health care system, which is one of the five best healthcare systems in the world for the service quality. The country's health care system consists of free or government subsidized health care. Working expats are eligible to apply for access to a government health care program or to use private health care services.
The health care system is administered by the UAE Ministry of Health. Services are provided by two organizations:
The Primary Health Care Corporation (PHCC), which operates 27 regional centers throughout the country
Hamad Medical Corporation, which is a non-profit organization that operates 12 government hospitals, community clinics and a national ambulance service.
Persons registered with the Qatari health system are entitled to register with a therapist and gain access to medical services such as dental care, antenatal care (pregnancy support), vaccinations, and emergency medical care. All healthcare facilities in Qatar, both public and private, must be registered with the country's Council for Healthcare Practitioners.
All residents with a valid ID and residence permit, including expats, can access the public health system in Qatar. To do this, you must apply for a medical card at primary health care centers or online over the Internet. Individuals who do not have a medical card, as well as tourists temporarily settling in Qatar, must take out a private health insurance policy. Otherwise, they will have to pay for the treatment at their own expense.
Education in Qatar
Qatar has developed so much in the educational aspect that achieved the ability to educate its own elite. Qatar provides all levels of education, from elementary to advanced, and has one of the best educational courses in the world. Many international schools have spread their branches in Qatar, which has also helped in the country's education sector.
Education plays a vital role in Qatar's development programs as the government quickly recognized the importance of improving educational infrastructure and the huge resources of the oil boom has provided the needed funds for this.
With this great transformation in the education system Qatar has become the number one destination for students willing to continue their education up to the highest level. Qatar has built a city of education for itself, a campus made up of many local branches of colleges and universities. Many students choose to study in Qatar due to the high level of education and affordable tuition fees.
Qatar has many renowned universities that are respected for providing high quality education. Qatar University located in Qatar and Hamad Bin Khalifa University are two national universities available in the country.
Tuition fees depend on each individual educational institution. Both locals and international students pay the same fees, which is something not very common but surprisingly great and the total cost of which is around $ 20,000 per semester.
Some universities charge fees on a "credit hour" basis and have about 12 credit hours each semester. For example, at the University of Qatar, the cost of an undergraduate program is $ 365.00 per credit hour. Some selected applicants from outside Qatar are offered scholarships to study undergraduate programs. These candidates can be nominated by embassies or can apply directly to the university.
Conclusion
We hope this article will serve as a guide for people who plan to move or has already live in Qatar to make their choices and priorities wiser.
Here are 10 more reasons you should live in Qatar or at least visit it for once in your life.
Simplified visa entry. Citizens of 80 countries are eligible for visa-free travel to Qatar with various periods of stay.
Convenient and comfortable air flight aboard one of the best airlines in the world, Qatar Airways, arriving at the modern Hamad International Airport, one of the best airports in the world.
A wide range of world-class hotels, including leading international and regional hotel chains. Luxury, quality, and unrivaled service at a reasonable price.
A varied gastronomic experience: budget authentic market cafes and restaurants by world-renowned chefs: Gordon Ramsay, Alain Ducasse, Nobuyuki Matsuhisa, Jean-Georges, Antonio Carluccio. Club system and additional options in hotels, allowing the catering system to be closer to the "all inclusive" package. Incredible, varied brunch.
There is an impressive array of shopping options, from the luxurious Pearl Qatar boutiques to elegant and comfortable shopping malls and vibrant traditional markets.
Living traditions of Qatar: camel racing, horse racing, falconry, Souq Waqif market, dhow boat trips, trips to the desert.
A natural wonder of Qatar – the "Inland Sea" Khor al-Adaid, a nature reserve with its own ecosystem, recognized as a UNESCO heritage site.
Cultural and historical sites: Museum of Islamic Art, Mathaf Arab Museum of Contemporary Art, Al-Zubara Archaeological Site (UNESCO site), fortresses and towers, ancient rock carvings and settlements.
International sports events:
2022 – FIFA World Cup.
2019 – World Championships in Athletics.
Annual events in the framework of championships in various sports:
Commercial Bank Qatar Masters golf tournament,
The Qatar ExxonMobil Open tennis championship,
Bike race "Tour Qatar",
Car race Qatar International Rally,
Qatar Moto GP Motorcycle Grand Prix sponsored by Commercial Bank,
Qatar Total Open tennis championship,
The F1H2O world water championship,
The IAAF Diamond League athletics competition.
Atmosphere. In Qatar, you can see people from most parts of the world who speak a huge variety of languages ​​and profess a wide variety of religions. Feelings of respect for tradition, security, and admiration for the possibilities of modernity accompany your stay in Qatar.