20 Best International Schools In Qatar
If you are looking to invest as an expat or high-net-worth individual, which is what I specialize in, you can email me (advice@adamfayed.com) or WhatsApp (+44-7393-450-837).
Introduction
This article presents the 20 best international schools in Qatar, in no particular order, as well as the education system in Qatar.
With 2.8 million people, Qatar is a small, wealthy country. One of the best airlines in the world is based here, and Skytrax will name it the best airport in the world in 2021.
The petroleum and natural gas industries, which contribute more than 70% of the country's total government revenue and roughly 85% of its export revenue, are a major factor in its robust economy and affluent population.
Qatar's education system has benefited greatly from the wealthy country's success in making money from oil.
In 1952, the first primary schools for boys were established. Girls' schools soon after, in the middle of the 1950s.
The government's generous welfare programs accelerated the growth of the education industry, and by the 1980s, there were countless programs outside of traditional classroom settings.
Technical, vocational, business, and religious studies courses are all offered at the secondary level of education.
Six years of primary school, three years of secondary school, and three years of post-secondary education make up the 12-year, publicly funded educational system.
More than 300 schools in Qatar offer a variety of international curricula, resulting in a remarkably diverse educational system.
All private schools are permitted to create their own curricula as long as they adhere to the Qatar National School Accreditation requirements. The language of instruction at international schools can vary depending on their affiliations, though some use Arabic.
In addition, Education City and the surrounding areas of the nation's capital, Doha, are home to a few renowned universities with satellite campuses that offer distance learning.
Education City in Qatar began as a single institution, Virginia Commonwealth University, but quickly expanded into a 12-kilometer-long campus in Al Rayyan that is now home to numerous international tertiary institutions, including Carnegie Mellon and Georgetown.
A number of goals are outlined in the Qatar National Vision 2030 for the country's educational system, including the promotion of national identities, morals, and social values.
The Education System in Qatar
Nearly 90% of Qatar's population is made up of foreigners, and the majority of them reside in the country's capital.
As a result, Doha serves as the hub of the country's education system, where foreign parents must deal with extremely long waiting lists and growing difficulties finding suitable schools due to the country's small size.
Although free for Qataris, public schools are typically gender-segregated and difficult to access for foreign nationals. Additionally, they primarily teach in Arabic, which excludes the majority of foreign nationals.
Private schools are much more alluring to expats because they frequently hold accreditation from international educational standards. They give parents reassurance that their kids will be able to transition to local schools more smoothly.
International Schools in Qatar
Except in rare circumstances, public schools are essentially inaccessible to foreign nationals. The majority of expats enroll their kids in international schools. This explains why getting a spot in an international school can be so difficult.
It also explains why some parents join waiting lists before even committing to a job. In fact, some schools allow parents to sign up for waiting lists a whole year before the start of the school year.
You can find schools in Qatar that offer internationally recognized accreditations, including the International Baccalaureate, the IGCSE, and a few other nation-specific accreditations.
Some international schools only provide education up to a certain grade level, like kindergarten, while others provide instruction from prekindergarten through grade 12.
Due to the variety of schools, it's important to be aware that grade levels may be referred to by different names, such as secondary school rather than high school.
International School Curriculums and Certificates in Qatar
International Baccalaureate (IB)
Some people view the International Baccalaureate program as the benchmark for global education. This is largely due to the program's academic structure and emphasis on creativity, critical thinking, and writing.
Additionally, their commitment to service projects is respected for its rigor on a global scale.
Math, science, the arts, literature, and language are all included in the course of study. Students must pass a comprehensive exam to receive their diploma from secondary school. IB is offered in 17 schools in Qatar.
International GCSE (IGCSE)
The International General Certificate of Secondary School, part of the British curriculum, is very well-liked in foreign schools. Students can use these in their university applications. They are broken down into three stages, which end in A-level certifications.
For parents of students who want to pursue higher education in the UK or among the Commonwealth nations, the IGCSE is a very practical option. Students enroll in math, science, a foreign language, and courses in science and English literature.
The IGCSE is typically offered by the Cambridge International Examinations Board and is taken by students after the first two years of secondary school.
The results of their A-Level exams, which they take in a few fields of study after their final two years, are crucial for applying to universities. Because of this, many foreign parents appreciate how easy it is for their children to continue their education at a British university while living abroad in Qatar.
American High School Diplomas and Advanced Placement
The elementary, middle, and high school divisions of education are all part of the American educational model. But compared to other programs, it is typically much less structured.
Students who are in good standing complete the necessary exams and are awarded a diploma. Social studies, math, science, English, and a foreign language are typically what they study.
Many American universities accept Advanced Placement courses as college credit, and some parents prefer American schools because they might also offer SAT prep classes. This easier transition is very alluring to parents of children who want to study in the US.
20 Best International Schools in Qatar
1. American School of Doha
Address: Al Bustan Street/ E Ring Road, Al Waab/ Al Soudan District SW Quadrant – Doha, Qatar
Website: https://asd.sch.qa/
To accommodate the growing needs of students in Doha, the US embassy and prominent members of the Qatari community founded the American School of Doha (ASD) in 1988.
With about 2,200 students from more than 80 nations, ASD is one of the best international schools in Qatar and in the world.
In recognition of its success in fostering sustainability on campus, the School was awarded the Eco-Schools Green Flag in 2012.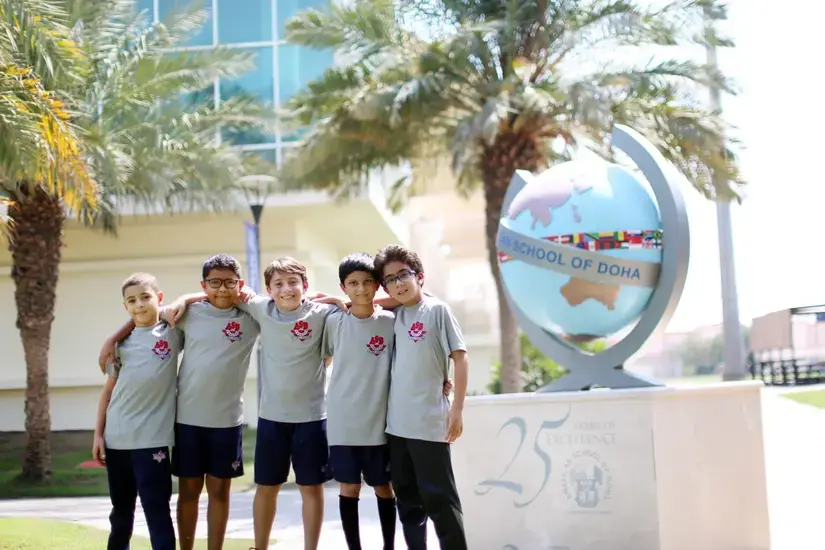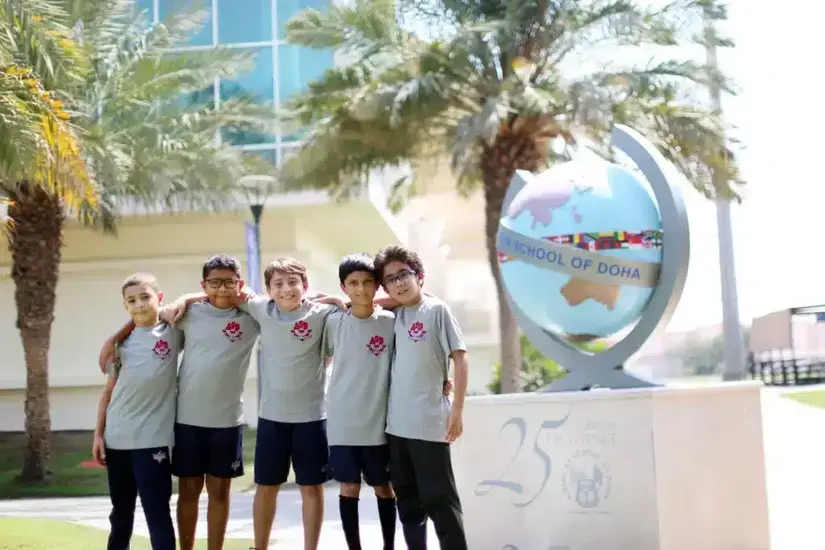 2. ACS Doha International School
Address: Al Kheesa, Building No. 10, Street no 161 – Doha
Website: https://www.acs-schools.com/doha
ACS Doha, a member of the ACS International Schools Group, was established in 1967.
Greater London is home to three elite sister schools of ACS Doha. There are currently 2,200 students there, representing more than 70 different countries.
3. The Hamilton International School
Address: Mesaimeer Area (near the Religious Complex) – Doha
Website: https://hamiltoninternationalschool.qa/
The Hamilton International School is a part of the International Schools Partnership, a UK-based company that owns 50 schools spread across 15 nations, including the oldest and most prestigious school in Doha, Park House English School.
4. Arab International Academy
Address: AL Sadd Area, Sports Roundabout – Doha
Website: https://www.aia.qa/
In 2016, the Arab International Academy was established in Doha, Qatar.
The Middle Years Programme, the Primary Years Programme, and the IB Diploma Programme were pursued by Arab International Academy and approved.
In terms of the development of the cognitive, social, emotional, and physical selves, the IB Programs seek to create a whole person. With a 100% passing rate, AIA's averages in every subject are higher than the global averages.
5. Michael E. DeBakey High School
Address: Raodh Alain Street, Al Messila South – Doha
Website: http://debakeyatqatar.org/
In 2008, the Michael E. DeBakey High School for Health Professions was founded.
The school is the second school in the whole world to be named after the American surgeon, scientist, and medical educator Michael Ellis Debakey (Michel Dabaghi).
It is a highly regarded high school that offers students a science, math, and medical curriculum that prepares them for college.
Along with accreditation from Qatar, the school also received US accreditation in 2009. The school has a 100% graduation rate and a 100% acceptance rate to prestigious US, English, Qatari, and Canadian universities and colleges.
6. Park House English School
Address: Mesaimeer Road, Abu Hamour, – Doha
Website: https://parkhouseschool.com/
The International Schools Partnership purchased Park House English School, which opened in Doha in 1994, in 2015. This school is one of the best international schools in Qatar, as well as the country's oldest and most prestigious schools.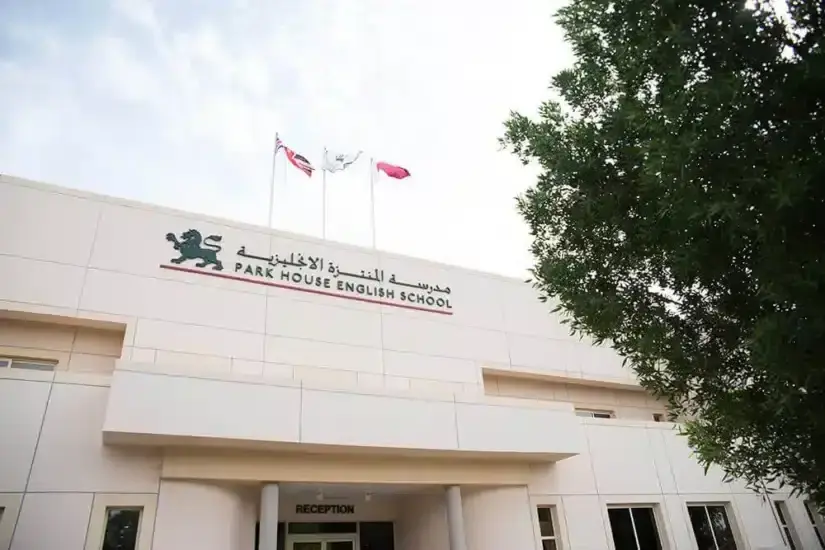 7. SEK International School Qatar
Address: Onaiza 65 – Doha
Website: https://www.sek.qa/
A part of SEK International Schools is SEK International School of Qatar.
More than 6,000 day and boarding students from more than 70 different countries attend SEK International schools on their campuses in Almeria, Madrid, Pontevedra, Dublin, Barcelona, Les Alpes (France), Saudi Arabia, and Doha.
Since its establishment in 2013, SEK International School Qatar has educated students from more than 50 different countries.
The Primary Years Program (PYP), Middle Years Program (MYP), and Diploma Program are the three IB programs that SEK International School Qatar is permitted to offer thanks to its accreditation from the New England Association of Schools and Colleges (NEASC).
For the academic year 2021–2022, the school has received the honor of being named a Microsoft Showcase School. The SEK international school in Qatar received the honor for the fourth time running.
8. Belgravia High School Doha
Address: Sports City St – Doha
Website: https://www.belgraviadoha.com/
Belgravia High School was established in 2012 and offers instruction in AS, A2, and IGCSE subjects from the British curriculum (accredited by Pearson/Edexcel and Cambridge International).
The British-run Belgravia High School in Doha provides an innovative approach to education.
It deviates from the prevalent pattern in Qatari schools, where many have sizable enrollments and class sizes that are nearly twice Belgravia's.
At Belgravia High School, there are only a maximum of 16 students allowed in each classroom.
9. Compass International School Doha
Address: Al Baihaqi Street, Building 34, Zone 32, Street 926, Madinat Khalifa – Doha
Website: https://www.nordangliaeducation.com/our-schools/doha/compass-international-school
The Nord Anglia Education Family of 73 elite international schools around the world includes Compass International School Doha.
There are four campuses spread out across Doha for this British international school. The school received accreditation from The School Evaluation Department of the School Evaluation Institute, Qatar, in January 2018.
The LabelFrancÉducation accreditation for its French Bilingual Program was given to Compass, the first school in Qatar with a French-English program.
10. GEMS American Academy Qatar (GAAQ)
Address: Mian St., Al Wukair, Al Wakrah – Doha
Website: https://www.gemsamericanacademy-qatar.com/
Within the GEMS Education family of international schools, which includes 44 institutions in the UAE and Qatar, is GEMS American Academy Qatar (GAAQ).
Over 119,000 students are enrolled at present in Saudi Arabia, Egypt, Europe, Africa, India, Southeast Asia, and North America.
The New England Association of Schools and Colleges granted GEMS American Academy Qatar full accreditation (NEASC).
This Qatari institution is the third to win the International Eco-Schools Green Flag Award.
It has been named "The Most Valuable School to Watch in the Middle East" by The Knowledge Review magazine and has been acknowledged as one of the "Most Valuable Schools to Watch in the Middle East." As such, the school is one of the best international schools in Qatar.
11. GEMS Wellington School
Address: Mian St., Al Wukair, Al Wakrah, Doha PO Box 81071, Al Mashaf, Al Wukair, Al Wakrah, Doha
Website: https://www.gemswellingtonschool-qatar.com/
The National Curriculum for England is taught at GEMS Wellington School, the second GEMS Education institution in Qatar.
In the past four years, it has had some of the highest university acceptance rates of any international school.
The students have received acceptance letters from 1050 universities across 53 nations, including 66 of the top 100 universities in the world.
12. Nord Anglia International School – Al Khor
Address: Taimiyah Street Building 5 Zone 74 Al Khor, Qatar
Website: https://www.nordangliaeducation.com/our-schools/al-khor
A division of Nord Anglia Education, Nord Anglia International School Al Khor was established in 2012.
Being affiliated with MIT, UNICEF, and The Juilliard School makes it the only school in Al Khor to offer such partnerships.
More than 40 different countries currently have students at NAISK.
13. Doha College, Al Waab Campus
Address: PO Box 7506 Al Niser St. Doha
Website: https://www.dohacollege.com/
In order to satisfy the demand for a British-style education, Doha College was established in 1980.
The Foundation for Environmental Education awarded the Eco-schools green flag to it as the first institution in Qatar in 2016.
At the 2017 British International School of the Year Awards, Doha College took home the prize for international impact.
It was the first school in Qatar to receive accreditation under the new Patron's Accreditation and Compliance program that the Council of British International Schools (COBIS) is offering as a replacement for the British School Overseas (BSO) accreditation.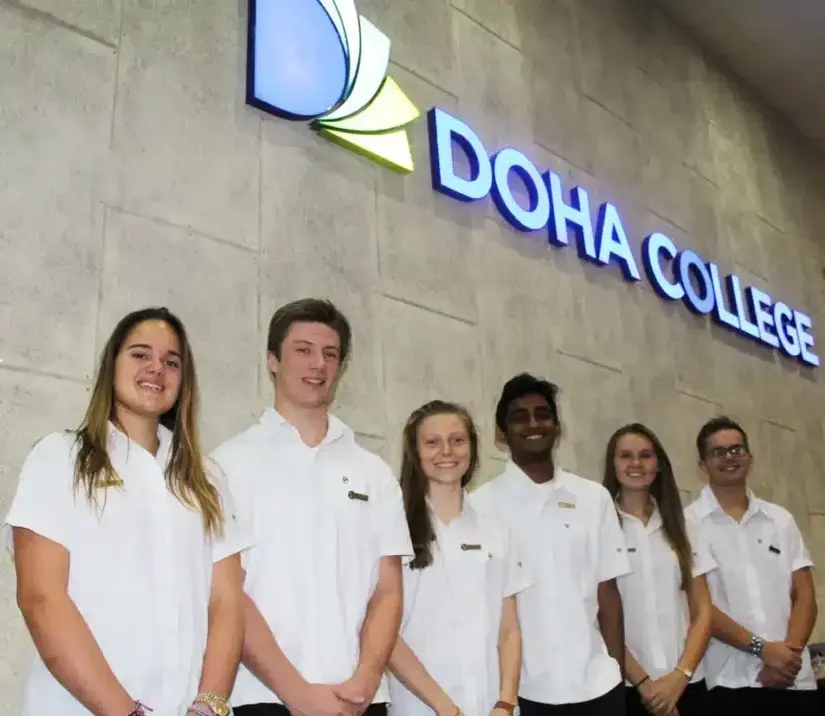 14. Doha Modern Indian School
Address: P.O Box: 47391 – Mesaimeer Street, Abu Hamour , Doha
Website: https://dmisqatar.com/
The system and procedures are well-established because the first Indian schools to receive "Qatar National School Accreditation (QNSA)" for a five-year period.
To prepare students for the All India Senior School Certificate Examinations, the school is associated with the Central Board of Secondary Education (CBSE), New Delhi (Grade XII).
15. International School of London, Qatar
Address: PO Box 18511, North Duhail, Doha, State of Qatar
Website: https://www.islqatar.org/
More than 1100 students from more than 70 nations currently attend the school, which opened its doors in 2008. These nations include the United States, Argentina, Belgium, Brazil, China, Finland, France, Greece, Ireland, Italy, Lebanese, Norway, Saudi Arabia, and Singapore.
By offering a global curriculum and mother tongue language programs, the school respects its students' cultural and linguistic identities.
For their solar panel project, the students took first place at THIMUN Qatar 2020 in 2020.
16. Qatar International School
Address: Qatar International School, United Nations Street, Doha – Qatar, PO.Box – 5697.
Website: https://www.qisweb.qis.org/
The institution has a 100% A-Level pass rate and a 77% AS Level pass rate (21% achieving 3 A-B).
Many of the students who applied to more than 77 universities around the world during the 2018–19 academic year were accepted to some of the best-ranked institutions.
17. The Cambridge School, Doha
Address: P.O Box: 22580 – AL Maadeed Street, Mamoura, Doha – Qatar
Website: https://tcsqatar.com/
The Cambridge School Doha, established in 2001, received recognition for having Qatar's best AS and A level results in 2016–17.
13 Outstanding Learners Awards in total (the highest in the nation), and 7 Outstanding Learners Awards. The Outstanding Learners Award has been given to a total of 83 students since 2011.
The school has previously taken home numerous prizes in the environment and Qatar Debate.
18. Doha English Speaking School
Address: P.O. Box 7660, Al Maarri Street No. 940 Fereej Kulaib, Zone 35, Doha
Website: https://www.dess.org/
One of Qatar's oldest non-profit primary schools, Doha English Speaking School (DESS), has given kids an education based on the British Curriculum.
In both state-run and private schools in the UK, DEES Year 6 Standard Assessment Tests (SATs) score in the top 2%.
Academic success among DEES students is significantly higher than that of UK national average statistics.
DESS received the highest grade of "Outstanding" in 2017, which enables it to be favorably compared to other independent schools in the UK and abroad.
The Qatar British Business Forum also named DESS "Organisation of the Year" in 2017.
19. MES Indian School
Address: P.O. Box No. 3452 Doha-Qatar
Website: https://www.mesqatar.org/
The Middle East Educational Services, Qatar, which was established in 1974, is the owner and operator of the M.E.S. Indian School of Doha.
One of the best international schools in Qatar is the MES Indian School, which is recognized by the Ministry of Education of the State of Qatar and associated with the Central Board of Secondary Education in Delhi.
In the 2021 Interschool Polemic Challenge Debate competition, the school took home the best school prize.
20. Dukhan English School
Address: Near to L Type Park – Dukhan, Qatar
Website: https://des.com.qa/Pages/default.aspx
One of the first English-medium schools in Qatar, as well as one of the best international schools in Qatar, is Dukhan English School. Its beginnings can be found in the early 1950s, when British Petroleum, the then-owners of the Dukhan Field, set up a school in the structure that would later become the clubhouse for the Dukhan Water Sports.
Students in the DES program travel to conferences in and around Qatar throughout the academic year.
Each conference aims to address the world's various issues through discussion, bargaining, and debate. The delegates are capable of critical, considerate, and professional expression.
Pained by financial indecision? Want to invest with Adam?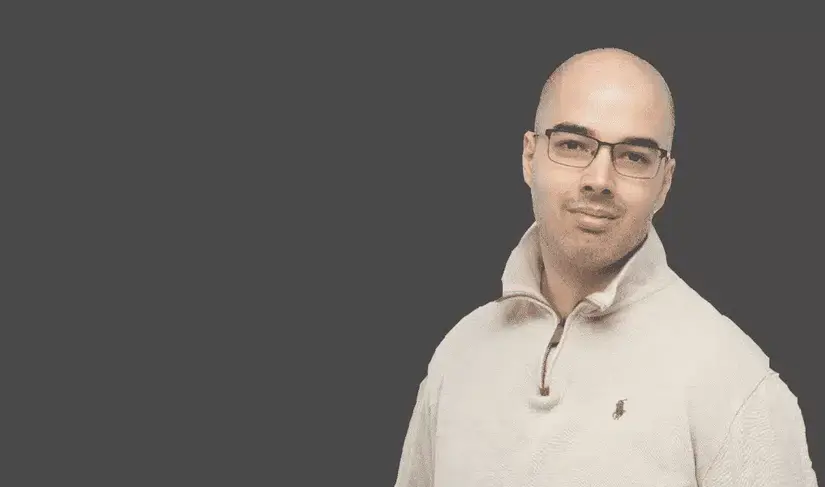 Adam is an internationally recognised author on financial matters, with over 631.2 million answer views on Quora.com, a widely sold book on Amazon, and a contributor on Forbes.
Tags
ACS Doha International School
,
American High School Diplomas and Advanced Placement
,
American School of Doha
,
Arab International Academy
,
Belgravia High School Doha
,
Best International Schools In Qatar
,
Compass International School Doha
,
Doha College
,
Doha English Speaking School
,
Doha Modern Indian School
,
Dukhan English School
,
GEMS American Academy Qatar
,
GEMS Wellington School
,
International School Curriculums and Certificates in Qatar
,
International School of London Qatar
,
International Schools in Qatar
,
MES Indian School
,
Michael E. DeBakey High School
,
Nord Anglia International School – Al Khor
,
Park House English School
,
Qatar International School
,
SEK International School Qatar
,
The Cambridge School Doha
,
The Education System in Qatar
,
The Hamilton International School