9 Best International Schools In South Korea
If you are looking to invest as an expat or high-net-worth individual, which is what I specialize in, you can email me (advice@adamfayed.com) or WhatsApp (+44-7393-450-837).
Introduction
Planning to move to Korea? Wondering what are the best international schools in South Korea for your children?
It is best to enrol your children in an international school if you are not a native Korean speaker. They won't have to deal with linguistic and cultural barriers as a result.
Fortunately, Seoul is home to a large number of elite international schools that are connected to prestigious universities all over the world.
The majority of these international schools offer British and/or American school curricula and cater to English speakers. However, there are also foreign schools in Korea that offer courses in Chinese, Japanese, or German.
These international schools share the high value that education holds in Korean culture and tradition. Given that Korean school life entails long hours and rigorous academics, your child will initially find it challenging and feel under pressure.
You can choose the best school for your children by using the information in this article to better understand the Korean educational system and the international schools there.
International School vs Foreign School
One might wonder if there is a distinction between an "international" school and a "foreign" school after perusing the list of schools available in Korea.
The ratio of locals to foreigners that the school is required to have at all times in its student population accounts for the difference between the two.
While "International schools" are not subject to the same restrictions, "Foreign schools" are required to keep the percentage of students who identify as Korean to a minimum.
Each school has a slightly different definition of what it means to be a "foreigner," depending on factors like citizenship, length of time spent abroad, and parent/guardian nationality.
The majority of foreign and international schools in Seoul, or anywhere in Korea, have a very high ethnic Korean population even with these restrictions.
Types of Schools in South Korea
Local, foreign, and international schools are the three different categories of educational institutions that can be found in Korea.
The nearby schools are typical Korean institutions that are ideal for Korean nationals. The best international schools in South Korea are the ones that have a cap on Korean-speaking students. International schools, however, do not have this restriction.
Prepare Admissions & Documents Before Traveling to South Korea
The paperwork and documents each school requires for the application process vary.
The passport, transcript, birth certificate, and copies of the student's test results are typically required by foreign and international schools in Seoul. Additionally, depending on the student's age, the enrollment procedure may vary greatly.
For instance, a first grader might not be subject to the same requirement as a sophomore in high school who must send in their academic transcript.
Before formally admitting students, some schools also demand an on-site exam and interview. Even the more established and competitive schools have waiting lists.
Admission Procedure of International Schools in South Korea
The paperwork and documents you need to prepare are as follows, although each international school will ask for something different from you:
Copies of transcript
Copies of student's passport
Birth certificate
Standardized tests
The enrollment procedure varies depending on the student's age. A primary school student's transcript, for instance, won't be needed.
A high school student transferring to a Korean international school will nevertheless need to provide a copy of their academic record.
Additionally, there will be variations in the standardized tests from grade to grade and from age to age.
How Much is International School in South Korea?
The cost of international schools in Seoul varies according to each school's application fees, tuition costs, the availability of transportation to and from the school, and the grade level of the student.
Due to the higher cost of lodging, international boarding schools in South Korea should cost significantly more than the average international school. In Korea, international schools can cost a little more than local national, national, or public schools.
Between 17,000,000 and 30,000,000,000 can be spent annually to attend an international school in Seoul.
9 Best International Schools in South Korea
Here is a list of the best international schools in South Korea for pre-kindergarten through grade 12, in no particular order, along with information about their values, goals, and what they will provide for and instil in your child.
1. Seoul Foreign School – Seodaemun-gu, Seoul
Only the Seoul Foreign School provides a comprehensive Pre-K through 12th-grade education system. As such, it is one of the best international schools in South Korea.
Moreover, in addition to the IGCSEs and IB Diploma, they offer the English National Curriculum or an American educational program.
The demonstrated inheritance at Seoul Foreign School spans more than a century. The 26-acre campus has a long history and a large size.
It is regarded as the most established British International School in Korea and the seventh-most established International School on the entire planet.
The institution is also not motivated by revenue or profit. It is solely committed to offering students a well-rounded educational experience.
Web: https://www.seoulforeign.org/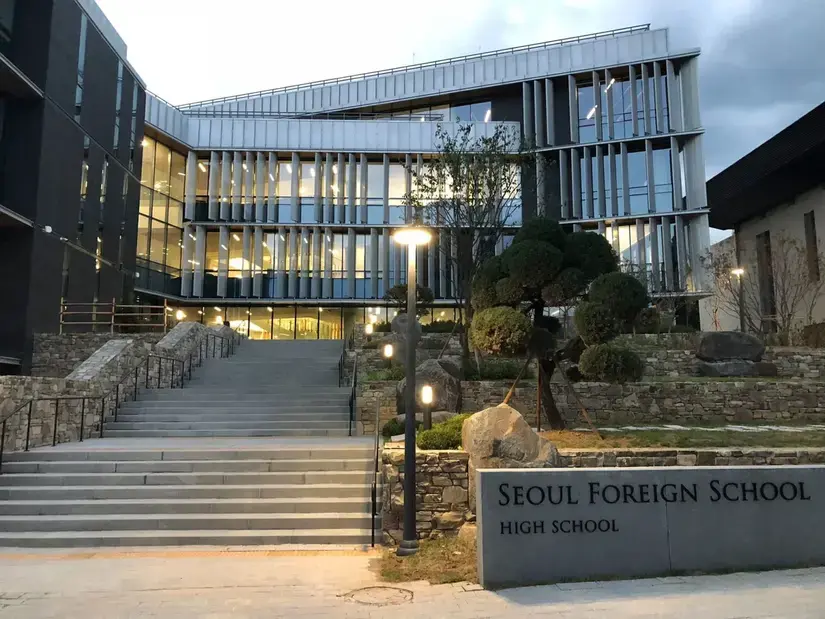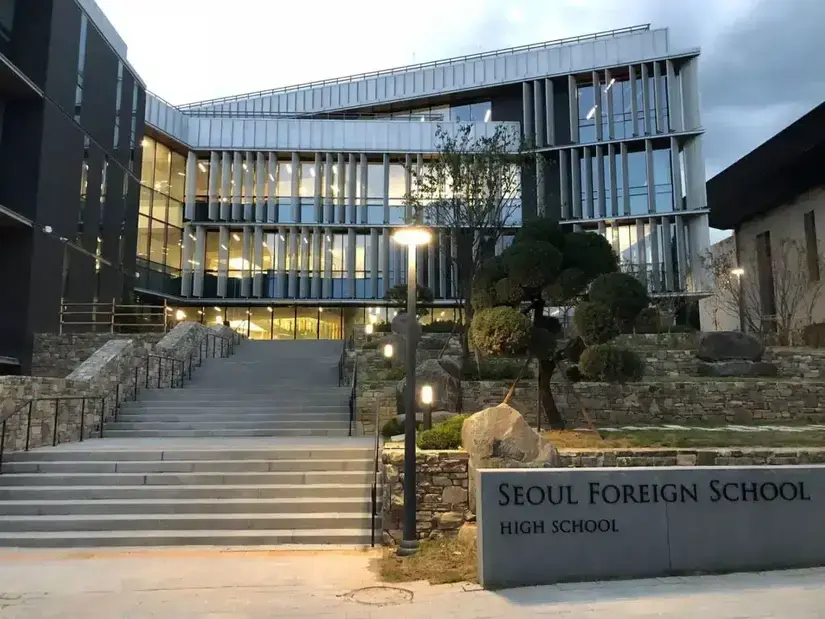 2. Dwight School Seoul – Mapo-gu, Seoul
This international school's motto is to discover the creative spark in each pupil. Every student has it, according to The Dwight School Seoul. This school is one of the best international schools in South Korea.
Their educational system is built upon three pillars, including community, global vision, and individualized learning.
Additionally, they put a lot of emphasis on the curriculum that will inspire and encourage their students to take intellectual risks, work well in teams, and think creatively.
The Dwight School Seoul makes sure that it complies with global benchmarks and standards by meeting the needs of its students from all over the world.
With everything you could possibly need, including a pool, a library, and multipurpose rooms, the building is both beautiful and modern. If you want your child to be well-rounded and succeed in both academics and extracurricular activities, this is a great option.
Web: https://www.dwight.or.kr/
3. Yongsan International School of Seoul (YISS) – Yongsan-gu, Seoul
In Hannam-dong, Yongsan-gu, there is an international Christian school. The overseas population living in Seoul is said to congregate in this area. Yongsan International School of Seoul is one of the best international schools in South Korea.
Just over a thousand students make up the entire student body of YISS, which may lead you to believe it is a small international school. Due to its rigorous academic standards, the Yongsan International School of Seoul (YISS) is still one of the top-tier schools despite this.
Even in 2018, the institution was recognized with the Best International School Award.
The Association of Christian Schools International (ACSI) and the Western Association of Schools and Colleges have also given the institution full accreditation (WASC).
The Yongsan International School of Seoul has also been acknowledged by the Seoul Metropolitan Office of Education (SMOE) (YISS).
The objective of this international school is to instil in its students a desire to seek the truth as well as a drive to succeed with commitment and appreciation for diversity.
The structure has a soccer field, a playground, a weight room, a gym, a music room, a pool, a contemporary auditorium, and basement amenities.
Web: https://www.yisseoul.org/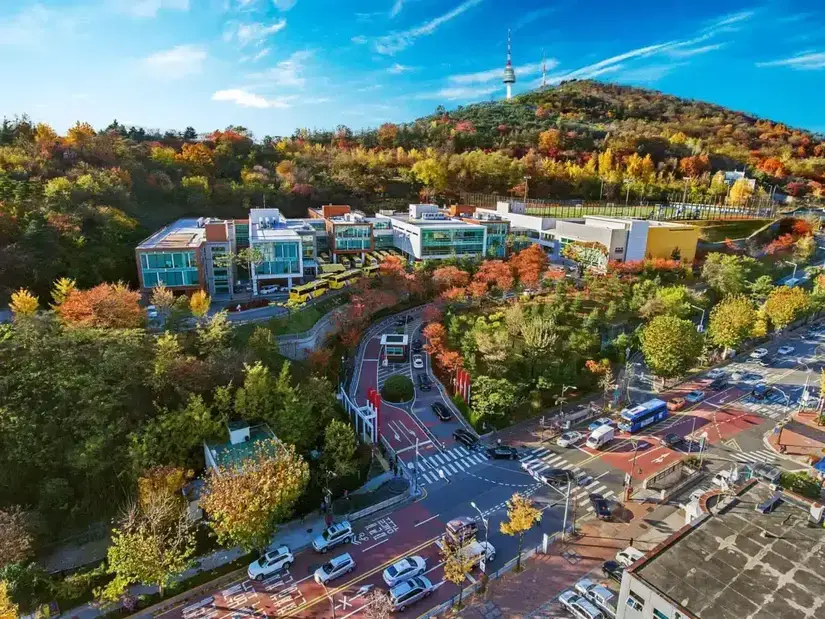 4. Korea International School – Gangnam-gu, Seoul
For students in grades K–12, there is a coed international school called the Korea International School. This is one of the best international schools in South Korea.
Since its founding in the year 2000, the school has grown to include three campuses, located in Gangnam in Seoul, Pangyo in Gyeonggi, and Jeju Island in southern Seoul.
While their main campus is situated in Bundang, a residential suburb just outside of Seoul's city limits. The school offers university preparation courses in English and is based on the American educational system.
Additionally, the school's atmosphere is very encouraging because the teachers work hard to maintain a positive and encouraging relationship with the students.
Gangnam Web: http://kisseoul.org/
Bundang Web: https://www.kis.or.kr/
5. Seoul Foreign British School – Seodaemun-gu, Seoul
The Seoul Foreign British School's structure has a contemporary yet classic appearance. The school was one of the first in Seoul to offer a British curriculum. It is one of the best international schools in South Korea.
Furthermore, it is the sole school in Seoul that is accredited by the UK Department for Education (DfE). The curriculum of the school has been designed in a way that it is compatible with the standards of the global community.
Additionally, the Seoul Foreign British School places a strong emphasis on inspiring its students to give their all in all, whether it be in their academics, creative pursuits, spirituality, or other endeavors. After-hours learning activities have been planned by the school specifically for this reason.
Web: https://www.seoulforeign.org/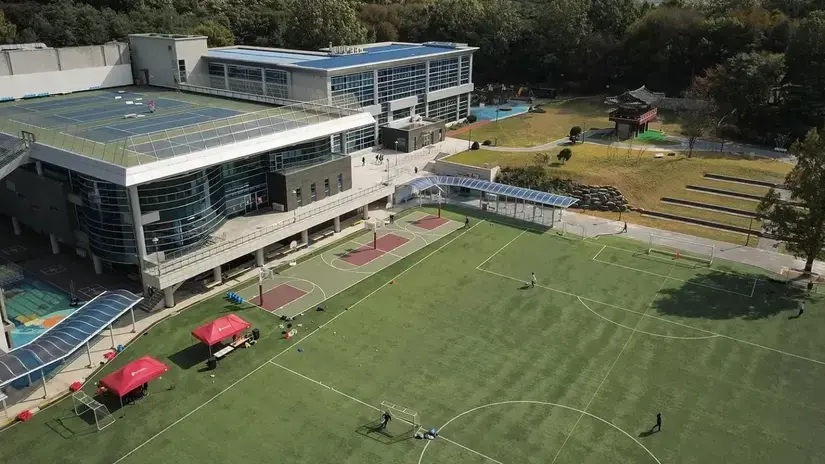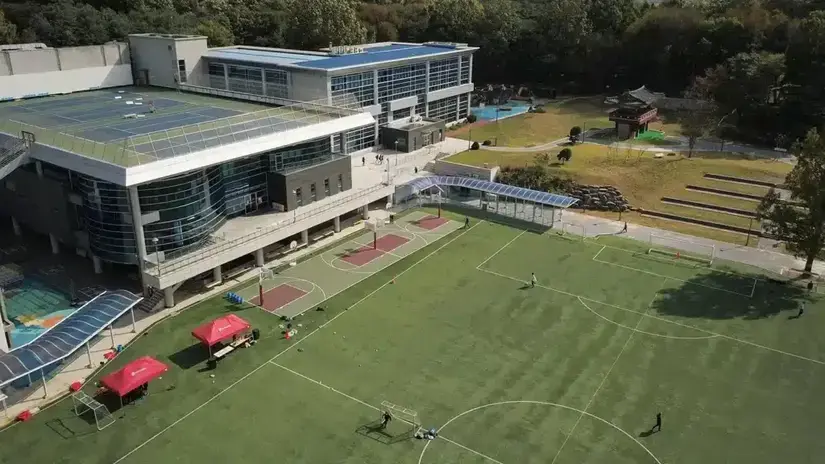 6. British Education Korea – Gangnam, Seoul
EtonHouse Prep Seoul used to be the name of the institution. For students ages 2 to 13, it is a recognized Cambridge International school that provides a British educational system.
Seoul is the location of the campus, which opened its doors in the month of August of 2013. Additionally, they have five locations in the heart of Seoul as well as its agglomerations of Gangnam, Namsan, Bundang, and Dongtan.
As a result of the school's celebration of diversity, numerous other Korean communities as well as international students attend there.
Web: http://bek.co.kr/
7. Dulwich College Seoul – Seocho-gu, Seoul
The stunning and cutting-edge school building is strategically placed in the Seocho District of the city, south of the Han River. It is one of the best international schools in South Korea.
More than 700 foreign students from more than 40 countries attend this international school, which follows the British educational system and has students ranging in age from 3 to 18 on average.
The most prestigious British independent school, "Dulwich College London," which was founded in 1619, has a branch in Seoul called "Dulwich College Seoul."
The Dulwich Colleges, which are spread out across the globe and include Dulwich College London, Dulwich College Beijing, Dulwich College Shanghai, and others, are all connected to one another.
The Dulwich Colleges around the world adhere to the Early Years Foundation Stage Framework and the Enhanced English National Curriculum. As an International Baccalaureate World School, the IGCSE program is also offered.
Web: https://seoul.dulwich.org/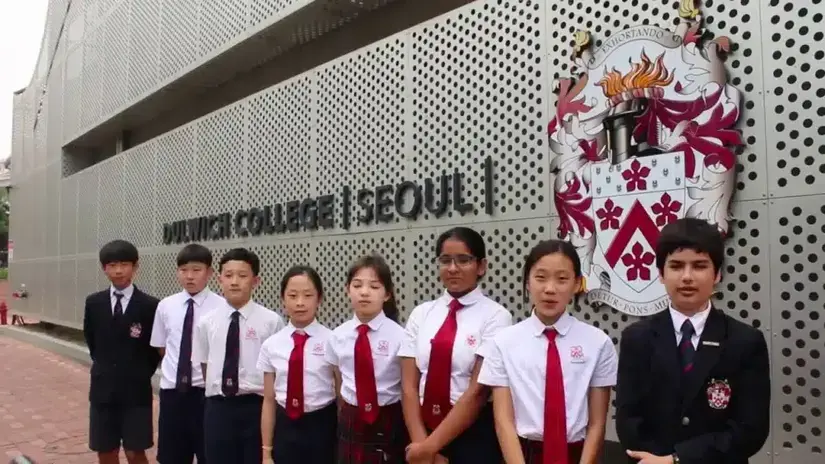 8. Chadwick International School – Yeonsu-gu (Songdo), Incheon
The Pre-K through 12th Grade curriculum at the Chadwick International School is comprehensive. By giving its students a variety of experiences, the school hopes to foster excellence, and exemplary character, and help them discover who they are.
The students are constantly encouraged to push themselves outside of their comfort zones by their balanced educational program.
They provide a range of indoor and outdoor opportunities based on accumulating experiences, including performing arts, visual arts, applied science, etc.
Additionally, the school encourages its students to contribute to society in accordance with their interests and passions, which helps to teach them about the diversity and complexity that exist on our planet.
Web: https://www.chadwickinternational.org/
9. Seoul International School – Seongnam-si, Gyeonggi-do
In 1973, the private K–12 school Seoul International School was established. The SIS primary and secondary school in Gyeonggi-do, just outside of Seoul, aims to meet the primary and secondary educational requirements of foreign students studying in Korea by offering a rigorous U.S. curriculum.
Tennis, cross-country running, swimming, volleyball, basketball, cheerleading, and soccer are all available to students at SIS, a member of the Korean-American Interscholastic Activities Conference.
With significant ongoing facility renovations, SIS keeps up with educational development while providing a safe and secure learning environment for its students.
Web: https://www.siskorea.org/
Pained by financial indecision? Want to invest with Adam?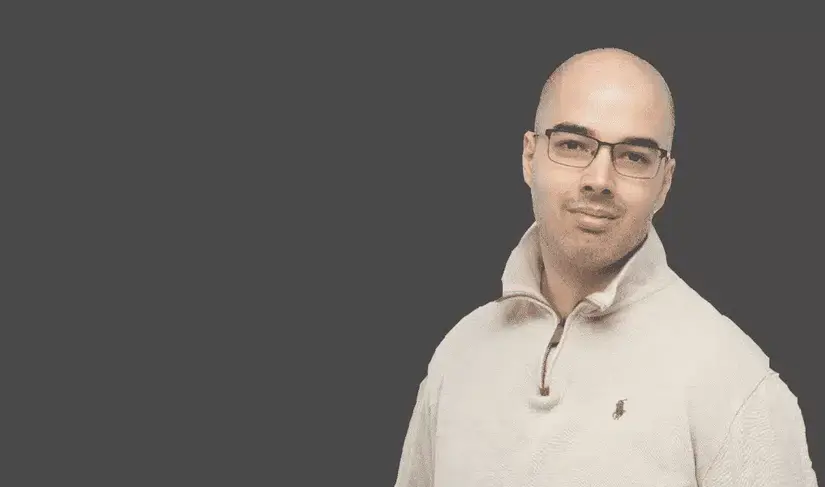 Adam is an internationally recognised author on financial matters, with over 631.2 million answer views on Quora.com, a widely sold book on Amazon, and a contributor on Forbes.
Tags
Admission Procedure of International Schools in South Korea
,
Best International Schools In South Korea
,
British Education Korea
,
Chadwick International School
,
Dulwich College Seoul
,
Dwight School Seoul
,
How Much is International School in South Korea?
,
Korea International School
,
Prepare Admissions & Documents Before Traveling to South Korea
,
schools in south korea
,
Seoul Foreign British School
,
Seoul Foreign School
,
Seoul International School
,
Types of Schools in South Korea
,
Yongsan International School of Seoul