Working in Cambodia as an expat is one-of-a-kind and appealing, combining professional development with personal enrichment in a vibrant atmosphere.
Southeast Asian country of Cambodia calls to individuals looking for a change of scenery, a varied cultural experience, and the potential to have an influence.
This in-depth manual will take you step-by-step through the employment search and application processes as well as the many advantages of working in Cambodia.
Cambodia offers a variety of chances in numerous fields, from teaching English to contributing to the country's economic growth, with a comparatively low cost of living and a welcoming environment for expats.
The easiest ways to get a visa and a work permit, the business culture, pay expectations, and the special benefits of living and working in Cambodia will all be covered in this guide, along with information on the top businesses that actively recruit foreigners.
Whether you are thinking about relocating for personal development, professional success, or simply a change of scenery, Cambodia offers a rich tapestry of opportunities that have the potential to profoundly affect your life in a number of meaningful ways.
Let's set out on this adventure to learn how to apply for, and succeed in a job as an expat in the fascinating country of Cambodia.
If you want to invest as an expat or high-net-worth individual, you can email me (advice@adamfayed.com) or use these contact options.
Economy of Cambodia
Cambodia's economy has been gradually and steadily improving since the end of the Khmer Rouge rule, which allowed the country to emerge from decades of economic stagnation.
Following the conclusion of the protracted fighting in Cambodia, the country started receiving major sums of aid from other countries, on which it continues to be substantially dependent.
Cambodia's manufacturing sector is primarily driven by the garment industry, which enjoys a substantial prominence within the sector and serves as a major economic driver for the country.
It accounts for more than 80 percent of all exports and gives work to over 700,000 people, with women making up approximately 90 percent of the workforce in this sector.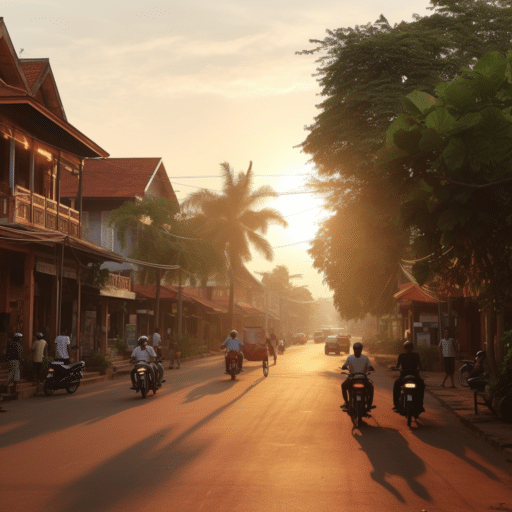 Cambodia's tourism industry provides an additional source of cash for the country because the country is home to a large number of popular tourist locations, the most popular of which is undoubtedly the world-famous Angkor Wat temple.
Since 2007, the average number of tourists that come to the country each year has exceeded the two million level on a continuous basis.
A little more than five million tourists visited Cambodia in 2016, bringing the country's total to just over that number.
However, it is essential to keep in mind that Cambodia is commonly regarded as one of the nations with the most severe economic problems in the entire world.
Cambodia is struggling with widespread corruption, limited access to education of a high standard, and significant socioeconomic inequality.
The adoption of a free market economy throughout the decade of the 1990s and the subsequent liberalization of policies regarding investment from overseas both contributed to the rapid rise of Cambodia's economy.
On the other hand, this phenomena has led to a concomitant rise in consumerism as well as major inequities among the population.
When contemplating career opportunities in Cambodia, it is necessary to be aware that the labor market may not offer the most desirable or diverse options, and that the normal compensation for expats is typically lower in comparison to that of several other countries.
How to Find a Job in Cambodia as an Expat
It is recommended that you start your job search as soon as possible if you have not changed your mind about working in Cambodia as a result of the lack of change in the economic conditions of the nation.
The climate of the labor market is one that is generally adverse. However, those who possess extensive competence in their particular fields may enjoy a certain degree of advantage over their counterparts in other fields.
Teaching English in Cambodia
A sizeable number of people from other nations decide to find job in Cambodia so that they can learn about a new way of life while also benefiting from the chances to advance their careers that are available to them during their time spent traveling.
Teaching English could be a good option for somebody who isn't actively looking for work but still needs to bring in enough money to cover their basic expenses like rent and food.
This person's primary objective would be to earn adequate revenue to cover their necessary living costs. Cambodia is home to a sizeable number of language institutes run by independent businesses, all of which are continuously searching for qualified new employees.
It is crucial to note that the earnings offered by these vocations are often modest; yet, they should still provide individuals with the ability to maintain themselves financially and find fulfillment in their life while they are living in Cambodia.
Individuals interested in working in the subject of education overseas may find the following websites to be helpful resources in their search for employment opportunities: Asia Teaching Jobs, ESL Employment, Total ESL, ESL Café, and TESall are examples of online platforms that offer resources and possibilities to people who are looking for work in the field of teaching English as a Second Language (ESL).
Total ESL is another example of an online platform. These portals provide job advertisements, information about teaching vacancies in a variety of Asian countries, and resources for teachers of English as a second language (ESL).
They provide a platform for linking job seekers with possible employers and act as helpful resources for anyone interested in establishing a career in teaching English as a second language (ESL).
Websites such as Go Abroad and others that focus on overseas travel and teaching can be considered as resources for the purpose of locating teaching opportunities in Cambodia.
In order to investigate possible work options once they have arrived in the nation, individuals might want to think about paying language centers and foreign schools a personal visit.
It is essential to take into consideration the fact that holding appropriate teaching credentials is often necessary in order to get hired by an international school.
Top Industries That Recruit Expats
​​The textile industry, agriculture, the construction industry, and the tourism industry are the ones that have the highest employment rates and the greatest demand for labor.
Cambodia is actively looking for people with advanced experience in the aforementioned fields in a variety of different industries.
The fact that there are so few people with executive or senior managerial experience in this country makes it a very attractive destination for seasoned foreigners.
Education is something that not only attracts a large amount of interest among people from other countries, but there are also countless career opportunities.
The nation is home to a large number of language schools, and a big number of foreign nationals, in particular those who are fluent in English, are employed as teachers at these institutions.
In addition, there are supplementary educational institutions that focus on the instruction of a variety of linguistic varieties.
The industry in question has a healthy job market that is characterized by a high demand that exceeds the available supply of qualified workers among the local population.
This results in a favorable job market. The particular requirements that must be met in order to get a certificate or accumulate relevant experience differ from one educational institution to the next.
Expats are sometimes brought in by local businesses to assist with the design and delivery of employee training and development programs.
Employment opportunities exist for those who are able to communicate well in the target language.
Expats make up a significant portion of the workforce in the private sector. It is essential to take into account the fact that the aforementioned industry is currently going through a period of tremendous expansion.
Numerous investors, private enterprises, and up-and-coming businesses are always on the lookout for employees who possess a wide variety of skills that are compatible with the operations of their organizations.
In addition, non-governmental organizations (NGOs) play an important role in luring a sizeable number of international personnel, many of whom are involved in the various projects geared toward Cambodia's economic growth.
These organizations receive significant financial support from influential donors such as the United Nations and the World Bank.
If one has a real interest in helping people, then working in this particular industry can be a good fit for the goals that they have set for themselves.
People will have the chance to put their skills to use in the service of a humanitarian cause in Cambodia through an opportunity that will be made available to them.
Cambodia is still one of the countries whose poverty rates are getting worse, despite the significant progress that has been accomplished in recent years.
Where to Find Job in Cambodia
If you are looking for work prospects outside of the traditional realm of teaching, it is in your best interest to investigate the multinational businesses throughout the world that are now hiring.
Potential employers may not only be interested in offering higher remuneration, but they may also be looking for applicants that possess qualifications that are comparable to yours.
Both the Cambodia Daily and the Phnom Penh Post, which are both well-known English-language dailies in Cambodia, publish extensive job listings.
These ads can be accessed by job seekers in Cambodia who are interested in finding employment prospects. In addition, anyone who is interested in working in Cambodia should seriously consider consulting one of the many online classified sites that are readily available.
Bong Thom, CamHR, Pelprek.com, tourist of Cambodia, CareerJet, and Learn4Good are a few examples of online resources that can be utilized to search for available positions in the tourist sector in Cambodia.
The procedure of obtaining a visa and a work permit in Cambodia is very easy, which is one of the reasons why a significant number of foreigners decide to start their own businesses in Cambodia.
It is possible that this particular choice will prove to be an excellent one for a person who is interested in working in Cambodia while still retaining their independence as a business owner.
Job Opportunities for Expats in Cambodia
Are you interested in broadening your horizons and increasing your knowledge? Do you require a site that maintains a constant level of sunshine throughout the year?
Feeling worn out with the same routine of working and sleeping day in and day out? The subject of discussion is emigration, and more specifically, the possibility of settling in Cambodia.
The main focus of this discussion will be on Cambodia. Your day-to-day activities won't leave you feeling exhausted because they'll be infused with the rich cultural traditions and delectable cuisine of Southeast Asia, which will make your life more interesting on a day-to-day basis.
The future holds the possibility of meeting other explorers who have embarked on an expedition that is comparable to one's own, becoming fluent in a language that is foreign to oneself, becoming fully immersed in a culture that is foreign to oneself, and becoming accustomed to a new way of life.
Individuals can expand the international scope of their professional activities by pursuing chances in Cambodia, and they can also experience an enhanced quality of life as a result of the relatively lower cost of living in the country if they make that decision.
Cambodia is a country in Southeast Asia. In point of fact, it is patently obvious that the requirements in urban centers of highly industrialized nations such as Europe and other urban centers in highly industrialized nations are very different from one another.
The most important thing to keep in mind is to make the most of the abundant resources and opportunities that are already there in our country.
The Cambodian people has the ability to create insightful distinctions between aspects that are essential and those that are unneeded, which can be quite helpful.
They are able to teach knowledge regarding the genuine value of a variety of factors, such as material things, interpersonal ties, and the allocation of time, amongst others.
Even if it is possible for people to feel the weight of geographical separation and yearn for the presence of their families and significant others, they will almost immediately divert their attention to the essential components of their lives.
Certain people may make the decision to live their entire lives in one spot, whether it be for a few months, several years, or even their entire lifetimes.
The length of time they choose to spend there may vary. On the other hand, there are some people who, after only a short amount of time away from their homeland, may begin to feel a strong yearning to return there.
Undoubtedly, commencing on a professional effort in Cambodia is a one-of-a-kind chance that merits consideration because it promises to yield a plethora of experiences that will be of immeasurable value as well as memories that will last a lifetime.
It is in a person's best interest to maintain vigilance about the near employment prospects, keep aware regarding the legislation that is currently in effect, possess the ability to capitalize on developing opportunities, and flourish in the selected option to transfer overseas.
One could draw the conclusion that the choice that was made was a worthy one. There is no way that any information that can be given to you in advance for the purpose of getting yourself ready can be comprehensive.
Unpredictable happenings and revelations are a given, thus it is natural to look forward to them.
However, the experiences and observations obtained from previous interactions with expats in Cambodia, in conjunction with the advice presented above, would have been able to provide at least a semblance of comprehension of what is to come.
It is possible for individuals from a wide range of educational backgrounds and fields of expertise to make a significant contribution to the growth of the Khmer nation by taking advantage of the vast array of professional opportunities that are available in Cambodia.
How to Apply for a Job in Cambodia as an Expat
Anyone who is interested in finding work in Cambodia is free to do so without having to fulfill any predetermined requirements.
Although it is not required for employment, having a good command of the Khmer language might provide a substantial edge in one's search for work prospects.
For someone to be considered proficient in the English language, they must also possess the capacity to speak clearly and effectively.
One have to give thought to sending applications to a number of different regional organizations, including the option of making spontaneous submissions.
In addition, if you want to improve your chances of finding work prospects, you could participate in discussion boards that bring together job seekers and potential employers.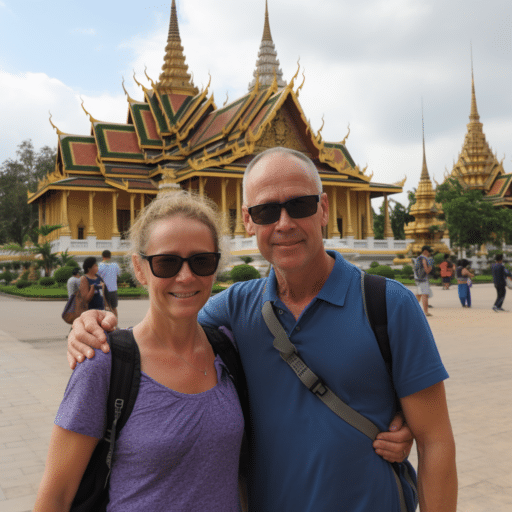 In the context of the steps involved in searching for a job, it is important to make use of the Internet and other social networks.
During this process, European nationals have the ability to seek essential assistance from the European Chamber of Commerce and Industry, also known as Eurocham.
There is also the option of relying on the experience and knowledge of people who are now living abroad.
The social phenomena known as "word of mouth" continues to play an important part in the day-to-day lives of people in Cambodia, and as a result, it may help individuals in Cambodia find work prospects by facilitating the transmission of information regarding various job offers among family and friends.
There are some people that kick off their professional careers by moving to Cambodia and working as English teachers there.
An individual can get significant experience by working in Cambodia for a period of time ranging from six months to a year, during which time they have the option of taking part in either an internship or a volunteer program in the country.
Participating in temporary employment possibilities should be done with the primary intention of achieving the following goals: achieving fluency in the local language; acquiring a full understanding of the local culture; and establishing a healthy network consisting of both expats and Khmer individuals.
Why You Should Consider Working in Cambodia as an Expat
Relaxed Visa Restrictions
In contrast to other ASEAN member nations that impose stricter visa regulations, Cambodia exhibits a comparatively lenient approach.
Upon arrival, individuals who satisfy the fundamental prerequisites can readily obtain a T visa (tourist) or an EB visa (work) visa at the airport.
In addition to the government's effective management of the COVID-19 pandemic, resulting in early reopening in 2022, the absence of quarantine periods or other entry requirements is observed.
This accomplishment positions the country as one of the first among ASEAN nations, as well as globally, to resume normal operations.
In relation to visas, it is essential to familiarize oneself with three primary visa categories, which are elucidated as follows:
The Tourist or T Visa is provided at no cost for a duration of 14-30 days, contingent upon the individual's nationality.
However, for most other nations, there is a nominal fee of approximately $30 associated with obtaining this visa.
The 30-day T visa can be obtained at airports and land crossings, without the need for any specific documentation. This visa is open to anyone from non-ASEAN nations, including both jobseekers and tourists.
When an individual arrives at their workplace, they have the option to apply for an E visa upon arrival at the airport, similar to the process for obtaining a T visa.
However, it is important to note that in order to successfully apply for an E visa, the applicant must furnish evidence of employment and submit the necessary supporting documentation.
Subsequently, the aforementioned process can be readily transformed into an EB Visa, a long-term work visa, which possesses varying durations of validity, namely 3 months, 6 months, or 12 months, contingent upon individual preference and/or the length of the employment period.
The process of conversion can be observed. It is advisable to engage the services of established travel agencies, such as Palm Travel Tours located in BKK1, or similar renowned firms.
It is advisable to conduct a thorough search in order to identify the most cost-effective option.
Travel agents facilitate the application and processing of an ER visa, which is specifically designed for individuals in the retired demographic.
Visitors have the option to get either a six-month or twelve-month visa length. The sole need is the submission of verifiable evidence of income from the country of origin.
Expats Can Start a Business and Part-Own Real Estate
It is not a prerequisite to possess citizenship or permanent residency in order to start a business or acquire real estate in Cambodia.
While several Asian countries, such as Malaysia, have provisions allowing property purchase within specific price ranges, many others have legislation barring such transactions.
Cambodia, however, differs from these countries in that it does not impose such restrictions.
Owning a Property in Cambodia
In this context, properties can be acquired either through a Strata title or via a nominee structure, wherein 51% of the property is registered under the name of a Cambodian citizen, while the remaining portion is held by a foreign individual.
The aforementioned process is thereafter safeguarded through the mutual agreement between the involved parties, which is formalized by means of a Mortgage Agreement.
Nominees are prohibited from engaging in the sale, transfer, relocation, or modification of the property.
It is also possible to enter into a long-term lease arrangement for a duration of 50 years or more, which grants the lessee the opportunity to construct buildings or repurpose the land, subject to obtaining consent from the relevant municipal authorities.
Starting a Business in Cambodia
Cambodia has gained significant popularity among investors and entrepreneurs due to its favorable conditions for foreign investment, allowing them to fully own firms within the country.
In Cambodia, there are various Qualified Investment Project (QIP) statuses that are available to new firms. These statuses offer a variety of tax benefits and favorable business models for admittance.
Expats are Very Welcome
One aspect that distinguishes Cambodia is its hospitable disposition towards individuals from other countries, which serves as a compelling factor in establishing a contented living environment, regardless of the duration of one's stay.
In contrast, Cambodia derives advantages from individuals who visit to partake in the remarkable offerings of this nation, so augmenting its tourist sector and facilitating its progress.
This symbiotic relationship ultimately proves advantageous for all parties involved.
The expat population currently stands at roughly 150,000 individuals, with projections indicating a potential increase in the coming years, particularly in the aftermath of the Covid-19 pandemic.
US Dollars is Widely Used
Cambodia exhibits a state of partial dollarization, wherein it employs a dual currency system comprising the United States Dollar and the domestic currency, the Khmer Riel.
The United States Dollar (USD) is commonly used for significant financial transactions. It is advisable to convert your currency into USD, if required, for utilization within the country.
This is because the USD is readily accessible and widely accepted in numerous airports along the journey to Cambodia, which may involve stopovers in Thailand or Singapore.
The monetary change provided will be in either USD or a combination of USD and Riel, depending on the denomination of the note.
The exchange rate between the US Dollar and the Cambodian Riel typically hovers around 4,000 Riel per Dollar, facilitating mental calculations.
It is important to mention that both currencies do not include the use of coins, resulting in a significantly reduced weight.
One advantage for individuals employed in Cambodia is the absence of restrictions on foreign exchange, allowing foreigners to generate income and afterwards remit it to their home countries.
Additionally, individuals from countries utilizing the United States Dollar as their currency can conveniently bring cash and promptly engage in transactions upon arrival.
Affordable Cost of Living
Cambodia compensates for its relatively low prospective incomes for expats by offering a cost-effective living environment.
By "cheap," we refer to the possibility of living at a much reduced expense, should one opt for it. Similarly, pay for expats in a typical teaching position typically commence at approximately $1200, contingent upon credentials.
Additional remuneration in the form of bonuses and promotions can enable highly regarded teachers to earn upwards of $2000 per month.
Professionals in the field of journalism and marketing have the potential to make a minimum of $1500, with the actual amount varying based on their specific skill sets.
Similarly, those in higher-level positions within the private sector, such as Business Development Managers, have the potential to earn upwards of $2000 to $3000 or more. Cambodia offers several employment prospects for expats.
We suggest consulting our affiliated organization, Next Step, to explore the most recent expat job openings in Cambodia.
Additionally, interested individuals may contact their staff to acquire further insights about the experience of residing and working in the Kingdom.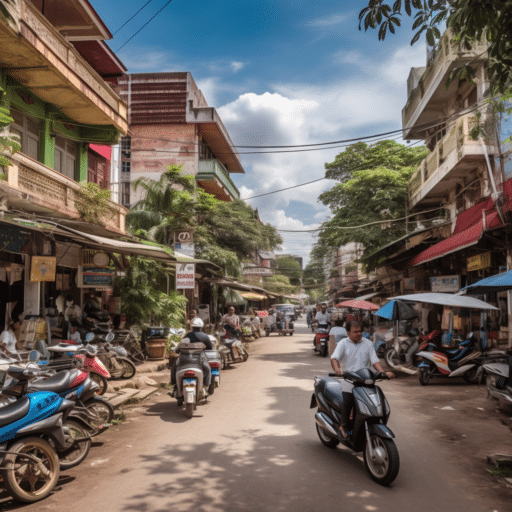 Numerous expats have a strong affinity for residing and engaging in professional activities within Cambodia due to the flexibility it offers in determining their desired standard of living on a weekly or monthly basis.
This implies that individuals have the option to reserve a private cab for transportation to Sihanoukville, engage in boat rental activities, and partake in swimming excursions amidst the islands.
Subsequently, throughout the subsequent week, one may opt to subsist on street food costing $1 while refraining from utilizing air conditioning.
Similarly, in the realm of gastronomy, one can find prestigious hotels and restaurants dispersed throughout affluent regions.
However, there are also inconspicuous establishments along the streets that offer delectable local cuisine at a modest price of $2.
When faced with the decision of purchasing a riverfront cocktail at a cost of $10 or opting for a nearby pub that offers a draft Cambodian beer for a mere 50 cents, the choice is down to the individual.
Furthermore, it is worth noting that travel expenses are relatively affordable. The affordability of motorcycles and the corresponding cost of fuel contribute to the significantly reduced personal travel expenses.
Additionally, a considerable number of individuals opt to commute via cycling as a means to escape this issue entirely, primarily due to the compact nature of numerous cities and towns in Cambodia.
The cost of commercial travel has also decreased, offering shared minibus journeys for as little as $10 from the capital to the seaside.
Alternatively, private taxis may be arranged for approximately $50, which can be divided among 4 people, resulting in a cost of only $12.50 per person.
Working in Cambodia as an Expat
Individuals in Cambodia are allowed to participate in gainful job for a time period that is anything from 48 to 60 hours on a weekly basis, as stipulated by the country's legal system.
Low-skilled workers normally receive a monthly compensation that falls anywhere between $150 and $300, while technicians can anticipate receiving a compensation that falls somewhere around $600 as part of their contractual agreement.
Jobs that require a certain level of specialized training typically pay salaries that are greater than $1,000.
It is vital to recognize that the aforementioned data indicate the salaries of expats, in contrast to the average monthly salary of a typical Cambodian individual, which amounts to $73 in this country.
Because of the comparatively low cost of living in Cambodia, it is quite possible that one can maintain a reasonable quality of life on their pay.
This is particularly true because of the relatively high level of education in Cambodia.
Business Culture in Cambodia
During the course of meetings and negotiations, it is of the utmost importance to keep in mind a number of important concerns when working in Cambodia as an expat.
For instance, the influence of hierarchy may be considerably more pronounced in that particular setting in comparison to one's country of birth.
Generally speaking, the person who holds the highest hierarchical position within an organizational context is the person who is tasked with taking on the role of the principal arbiter of choices.
In Cambodian business culture, it is traditional to introduce individuals with the honorific titles "Lok" for males and "Lok Srey" for females. These honorific titles are used by your Cambodian business colleagues to introduce males and females, respectively.
When engaging in the common practice of exchanging business cards, it is recommended to deliver the card(s) using either one's right hand or both hands, often after the first introduction of the parties involved.
It is recommended that one side of the card be translated into the Khmer language, and that when the card is displayed, that particular side should be facing upwards.
This will ensure that effective communication occurs. Despite the seeming oddness of such a practice, it is of the utmost importance to treat business cards with the respect and courtesy that they deserve.
It is in everyone's best interest to give your business partners a fair amount of time to work on building trust in one another.
Salary for Expats Working in Cambodia
Those who live outside of Cambodia and work in the country are often given more pay than Cambodians who were born and raised in the country.
These people are sometimes referred to as expats. Workers from other countries have the opportunity to earn incomes that are up to 15 times higher than the typical salary of persons who make their home in Cambodia.
As a result, one may be confident that, should they choose to become an expat in this enchanting nation, they will be able to achieve a satisfactory level of living there.
When pushed by an employer to convey wage expectations, it is best to do so with moderation and in a moderate manner.
This is the case irrespective of the amount of prior expertise one possesses in the specific role. It is not unusual for individuals to begin their careers with a salary that is significantly lower than what they might have been accustomed to receiving in their home country when they first started their jobs.
Having said that, it is necessary to emphasize the fact that a situation of this nature is often accompanied with a higher level of professional obligation.
It may be possible for an individual, once they have proved their capabilities and attained a particular degree of proficiency, to request a yearly wage increment ranging from 30% to 50% during the initial years, based upon the employer's happiness with the performance of the individual.
However, this will only be possible if the employer views the individual as having met their expectations for their work.
Final Thoughts
Working in Cambodia as an expat offers a unique and intellectually engaging chance for people who want to improve professionally as well as personally within an environment that is diverse in terms of culture.
This is the case for people who have aspirations to advance in an environment that is both dynamic and diverse.
Although there may be certain challenges involved with it, such as the requirement to manage the complexities of a different culture and adjust to an evolving economy, the rewards of engaging in this endeavor are substantially larger than the disadvantages that are encountered.
As a result of its stunning natural beauty and kind and welcoming people, Cambodia gives its expat residents the chance to have a substantial impact in their chosen fields as well as in the communities into which they are integrated.
Working in Cambodia provides access to a broad spectrum of experiences and possibilities, each of which has the ability to significantly alter the course of a person's life.
Cambodia is a country that offers a rich tapestry of opportunities, whether one is drawn in by the bustling urban atmosphere of Phnom Penh, the rich cultural legacy of Siem Reap, or the peaceful rural settings.
Pained by financial indecision? Want to invest with Adam?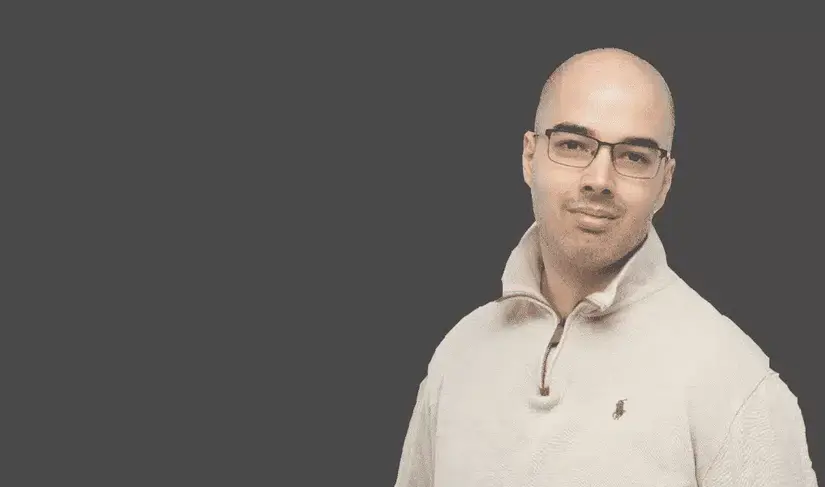 Adam is an internationally recognised author on financial matters, with over 694.5 million answer views on Quora.com, a widely sold book on Amazon, and a contributor on Forbes.