Living In The Hague – that will be the topic of today's article.
If you want to invest as an expat or high-net-worth individual, which is what i specialize in, you can email me (advice@adamfayed.com) or use WhatsApp (+44-7393-450-837).
Introduction
Living in The Hague can be very exciting.
The Hague has a comparatively moderate maritime climate due to its location on the western North Sea coast of the Netherlands. While summers in the city are frequently colder than in the countryside, it is at least brighter than many other regions in the nation!
The Hague is also home to Scheveningen, a prominent coastal town known for its beach clubs, harbor promenade, and leisure sports including as sailing, windsurfing, and kiteboarding.
But Scheveningen isn't the only reason why expats in The Hague are in for a treat. While the city is not very huge, allowing for a comforting small-town atmosphere, it is also Europe's political capital and home to various international institutions, including the International Criminal Court, the International Court of Justice, and Europol.
Living in The Hague is a genuinely worldwide experience: the multicultural culture is present not just in the political and judicial worlds of The Hague.
In 2017, just 46% of the city's residents were Dutch nationals. There are significant Turkish, Moroccan, and Surinamese communities, among others.
Diplomats, embassy personnel, foreign assignees, and workers of international organizations are among the foreigners who comprise the expat community living in the Hague.
The expat population in the Hague is believed to be over 50,000 persons, with over 3,000 foreign students residing in the city.
You'll feel right at home in the Haagse Markt on Herman Costerstraat if you're looking for a diverse assortment of international foods and items. Furthermore, Chinatown, which is centered around Wagenstraat, houses a variety of authentic Asian businesses and eateries.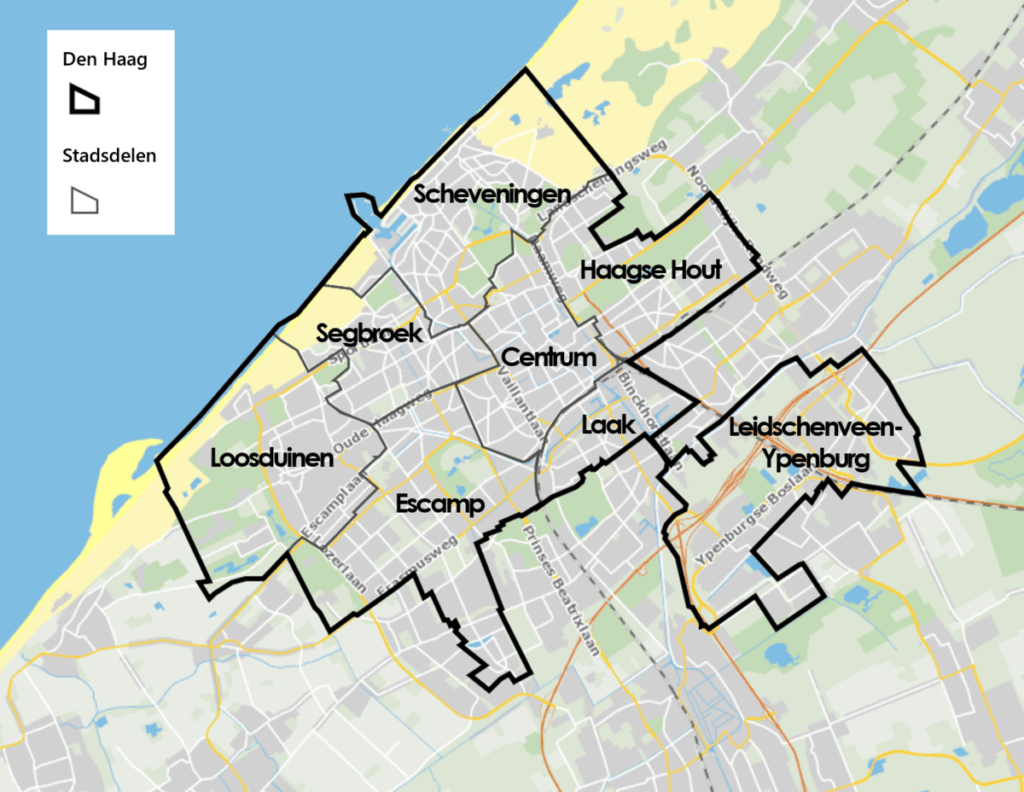 7 Best Neighborhoods to Live in The Hague
's-Gravenhage — the city's ancient name, from which The Hague derives — has a range of housing options. Living in the city is appropriate for both expats seeking to live in exciting metropolitan centers and families seeking tranquil residential regions. However, because space is limited in the city, many individuals choose flats or town homes over stand-alone structures in The Hague.
Parking is also particularly scarce for residents residing in The Hague. If you want or need to own a car, you may need to rent a parking place separately. On the positive side, many residences for expats have a balcony or even access to a small garden.
The Hague's moderate size, solid infrastructure, and excellent transportation connections help most areas. These are, nonetheless, some of the most attractive and desirable neighborhoods to reside in:
1. Archipelbuurt
Despite being in the Centrum district, this neighborhood has several rather peaceful residential sections. This rich area of The Hague is distinguished by romantic 19th-century houses and expansive open areas such as the Willemspark.
2. Belgisch Park
Located in the area of Scheveningen, this neighborhood is just a stone's throw from the North Sea, with its famous pier overlooking the shore and providing a variety of recreational activities. As a result, it is one of The Hague's most expensive neighborhoods.
3. Benoordenhout
With its spacious family houses and semi-detached structures, Benoordenhout rivals Belgisch Park in terms of property costs. While it does not have direct access to the sea, it does have several natural areas and a lovely Japanese Garden.
4. Duinoord
This upscale area, which is part of the Segbroek district, is less than a 20-minute bike ride from either the city center or the sea. The majestic homes and the Reinkenstraat commercial area are particularly notable.
5. Kijkduin en Ockenburgh
Kijkduin is The Hague's second coastal resort and is part of the wider Loosduinen region. This green residential area is home to a family-oriented community, yet its fantastic beachfront position necessitates a substantial housing budget.
6. Mariahoeve and Marlot
This "twin neighborhood" consists of two planned residential neighborhoods, each with its own particular personality. Mariahoeve's park-like 1960s architecture stands in stark contrast to Marlot's enormous houses.
7. Statenkwartier
This international district in the Scheveningen district is particularly popular with expats. After all, important institutions like Europol are based here. Not to mention "De Fred," the lovely Frederik Hendriklaan retail strip in the center of the neighborhood.
Because of the short distances inside the Rotterdam The Hague Metropolitan Area, you might consider looking for a new property outside of the city as well.
Smaller towns like as Rijswik (which has a branch of the European Parent Office and a Shell research site), Leidschendam-Voorburg, the village-like commuting town of Voorschoten, and the beachfront town of Wassenaar (home to many diplomats) have all become suburbs of The Hague.
Other cities, such as Delft and Leiden, are also easily accessible through public transportation.
Basics of Living in the Hague
1. Look for a Suitable House
Before you move to The Hague or the surrounding region, you must decide whether you want to rent (huur) or buy (koop) your new house. The latter is preferable if you want to stay in The Hague for an extended period of time, or even indefinitely.
Real estate agents can assist you in preparing for life in The Hague. They may even be able to negotiate a lower price for you, allowing you to save money.
Property listings in The Hague are constantly plentiful. Your agent can locate flats or homes that are advertised with different agencies. You will then be required to pay a broker's charge equal to one month's rent.
When looking for an apartment or property, you might find the NVM (the Netherlands Association of Real Estate Agents) website useful. This organization provides both rents and property for sale in The Hague.
You may also visit Pararius, an independent real estate website for people living in The Hague and other locations in the Netherlands. Huurwoningen, unlike Pararius, is exclusively accessible in Dutch. The website focuses on rentals.
2. Healthcare in The Hague
The Netherlands has a robust healthcare system with several world-class health centers and hospitals. Larger cities, like as The Hague, offer specialist hospitals and international medical professionals that cater to the expat community.
In 2016, the government invested more than 10% of its GDP (more than 7.7 billion USD) in the health sector to assure high-quality treatment.
Everyone in The Hague and the rest of the Netherlands is required to obtain health insurance. This requirement was established by the Health Insurance Act (Zorgverzekeringswet), which states that every resident must have access to basic healthcare.
Choose Your General Practitioner
You can pick your general practitioner freely in the Dutch healthcare system. You might wish to choose one who practices near your home or business, or one who has been recommended by friends or coworkers. You can always try to find a doctor on your own.
Simply go to Zorgkaartnederland's website and search for "Den Haag" under "Zoek op zorgaanbieder, persoon, plaats of postcode" before clicking "Zoeken." The Hague will then provide you with a list of doctor's practices. You may narrow down your search by selecting one of the categories on the right-hand side.
A list of general practitioners may be found by clicking on "Huisarts." Look for "Kinderarts" if you need a pediatrician; "Tandarts" will give you a list of dentists in The Hague; and "Gynecoloog" if you need an ob/gyn.
Language Barrier
Of course, not all expats in The Hague are fluent in Dutch. Similarly, even if the Netherlands is the world leader in English proficiency in 2017, not every doctor in The Hague will be competent in English or another foreign language.
Nonetheless, dealing with complex medical conditions while also coping with a language barrier can make communication challenging.
Your doctor, on the other hand, can contact "Tolk- en Vertaalcentrum Nederland (TVcN)" for interpretation and translation services. The interpreter may listen in and translate what your doctor is saying over the phone.
In certain situations, you may even be accompanied to your appointment by an interpreter. You will not have to pay for these treatments as long as your doctor requests them.
Hospital Emergency Numbers
The number to contact in an emergency in the Netherlands is 112. Furthermore, each of The Hague's seven hospitals offers a 24-hour emergency room.
Outside of office hours, on weekends, and on holidays, SMASH can provide emergency GP treatment. 070 346 9669 is their phone number. Tandarts Spoedgevallendienst Haaglanden may help with dental emergency. They may be reached at 070 311 0305 at any time.
On the official website of Den Haag, you may find further information on emergency contacts.
3. The Dutch Education System
Education is one of the first things that you have to consider when living in The Hague especially if you have children.
The Netherlands offers a complete education in both government and privately managed institutions. All children between the ages of 5 and 16 are required to attend school, however most children begin at the age of four.
Primary and secondary education are normally free, while some schools may charge parents for extracurricular activities or field excursions. However, this is a voluntary payment that is based on the income of the parents. The annual cost varies between 200 and 2,000 euros.
Primary school typically lasts eight years, until kids reach the age of twelve. Dutch, English, arithmetic and mathematics, creative activities (e.g. arts or music), social and environmental subjects (e.g. geography or biology), and sport and movement must all be covered. Primary schools frequently educate their kids on life skills and healthy living.
After-school programs are also provided for primary school students after school, on Wednesday afternoons, and during school holidays.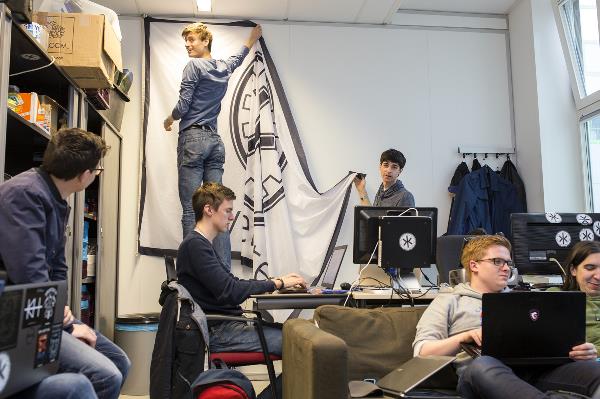 Public and Private Schools in The Hague
There are three sorts of schools in the Netherlands: public schools, privately administered schools, and entirely private and independent schools.
Because public schools deliver instruction on behalf of the government, they are unable to reject admission to any student for religious or ideological reasons. Privately owned schools, on the other hand, frequently base their instruction on religious and ideological ideas.
As a result, they can be selective, admitting only pupils of a specific faith (e.g., Catholic, Muslim) or those whose parents agree with their educational philosophy (e.g. Waldorf schools).
The Dutch government provides money for both types of schools. As a result, they must adhere to certain quality criteria established by the Dutch Ministry of Education, Culture, and Science, such as the topics they provide and the substance of national tests.
Secondary Education in The Hague
Students will get recommendations on additional academic possibilities from their instructors after eight years of primary schooling, as well as (non-binding) guidance on which form of secondary school is ideal for them. In general, secondary education in the Netherlands is divided into three categories.
The VMBO lasts four years and is intended to be a fundamental programme for students wishing to pursue vocational training.
The HAVO is a five-year program designed to offer students with a basic general education and prepare them for further professional training.
The VWO is the academic route. It lasts six years and is designed to prepare pupils for university. After the first three years, students must choose between nature and technology, nature and health, economics and society, and culture and society.
International Schools for Expat Children Living in The Hague
Fully private schools must still be approved by the Ministry of Education and must undergo inspections and quality evaluations. However, they are not supported by the government.
As a result, if parents wish to enroll their children to such a school, they must typically pay significant tuition costs. For the academic year 2017/18, the American School of The Hague charges between 14,000 and 22,000 EUR in yearly tuition.
In the Netherlands, fully private education is uncommon, but most international and foreign schools do. Children as young as four years old can get international education, which primarily prepares them for the International General Certificate of Secondary Education (IGCSE) or the International Baccalaureate (IB) Diploma.
In and around The Hague, there are several international and third-country schools:
Bilingual Education in The Hague
If you want your adolescent children to attend a Dutch school but are concerned that they will struggle to learn the language, you may enroll them in a secondary school that provides bilingual instruction.
Your children will be taught in both English and Dutch there. Math, biology, economics, and information technology are all taught in English throughout the six years of VWO (pre-university) level. Exam preparation, on the other hand, is frequently taught in Dutch, and the tests themselves are also taken in Dutch.
However, schools may provide an alternative for kids who do not speak Dutch fluently. In some situations, your children will be eligible to take the International Baccalaureate English A2 Certificate test, which will qualify them to study at English-speaking institutions.
There are many secondary schools in The Hague that provide multilingual education:
These schools also provide a wide range of foreign activities and exchange opportunities. Please contact each school directly for further information about their multilingual program.
4. Childcare in The Hague
In the Netherlands, daycare centers welcome children from six weeks to four years, which is the age at which they can begin primary school. At general, children can stay in a childcare facility (kinderdagverblijf) for up to 10 hours on weekdays, with hours ranging from 08:00 to 17:30. There are sometimes extensive waiting lists for these services, so sign up as soon as possible!
Two or three times a week, older children between the ages of two and four go to a play-school (peuterspeelzaal). Despite the fact that these schools are designed to prepare children for primary school, they often provide ample opportunity for your children to be children and engage in creative play.
Because of The Hague's huge foreign community, the city also has a number of English-speaking childcare centers and playschools. Please keep in mind that they are often private facilities with higher prices than municipal childcare centers. A list is available on the Den Haag website.
Conclusion
Finding accommodation in the city center may be tough and pricey. The Hague's most picturesque areas sometimes need a large housing budget.
Using a real estate agent to help you find nearby housing is a terrific alternative.
The standard of medical care is quite excellent, and you have complete freedom in selecting your primary care physician.
Expat parents in The Hague can select between officially and privately run Dutch schools, as well as a variety of foreign schools in and around the city.
Pained by financial indecision? Want to invest with Adam?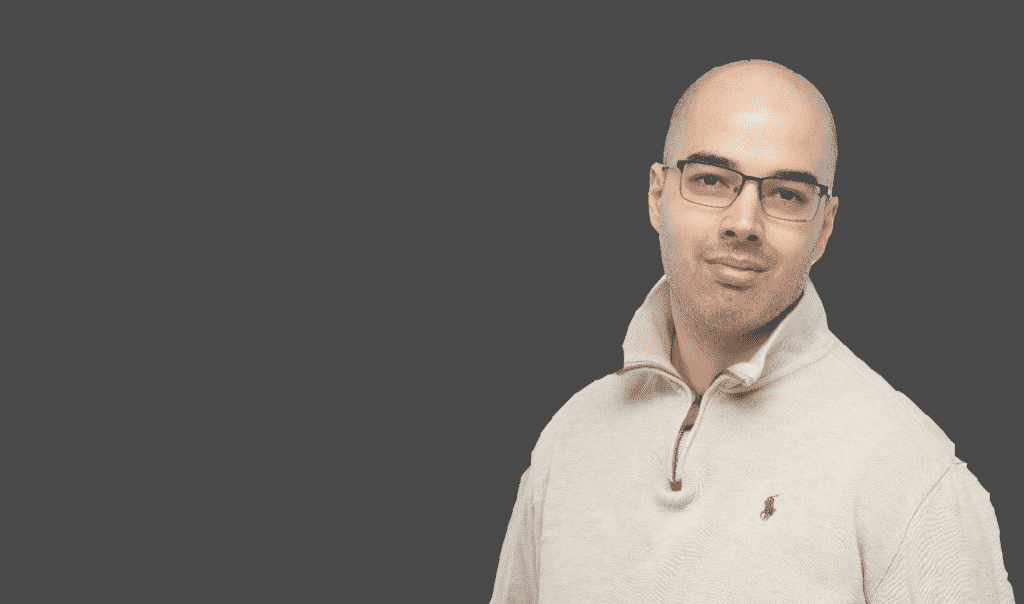 Adam is an internationally recognised author on financial matters, with over 693.5 million answer views on Quora.com, a widely sold book on Amazon, and a contributor on Forbes.