19 Best International Schools In Malaysia
If you are looking to invest as an expat or high-net-worth individual, which is what I specialize in, you can email me (advice@adamfayed.com) or WhatsApp (+44-7393-450-837).
Introduction
You can read all about the best international schools in Malaysia in this article, which emphasize your child's overall development and education.
Choosing where to send your children for their education can be a little nerve-wracking. As a parent, you have high expectations for your children and are aware that the institution you entrust them to is crucial to their success.
There are a lot of options available that promise to give your children the best education, so it can be difficult to determine which one is best for you and your child. Stop worrying now!
Continue reading about the best international schools in Malaysia and rest easy knowing you gave your child the best possible education.
19 Best International Schools in Malaysia
1. Alice Smith School
This well-known British curriculum school, which was established in 1946 by a Harvard alumna named Alice Fairfield Smith, has a strong sense of community. Alice Smith School is one of the best international schools in Malaysia.
The traditional Christmas fair with carols and mince pies and the annual summer fair are both beloved by parents and kids. In 1997, the secondary school unveiled a sizable campus in Equine Park.
The remote location has the advantage of being in a peaceful, open environment that is green. This non-selective, nonprofit institution offers excellent academic outcomes and well-designed, gleaming facilities.
Exceptional sporting facilities include an Olympic-sized pool and an 8-lane running track. Parents complain about an exclusive environment that makes many eager kids feel "left out" of team sports opportunities.
With lively workspaces and exhibition galleries, art and DT are excellent. According to parental intelligence, the sixth form is experiencing an increase in drift, which results in a graduating class of only about 80 students.
Small class sizes and the teachers' intense focus—86% of whom are British—are advantages. Good UK universities are accepting sixth-formers; each year, a steady stream of candidates for Oxbridge enters the country. The local British community continues to favor Alice Smith as their top pick.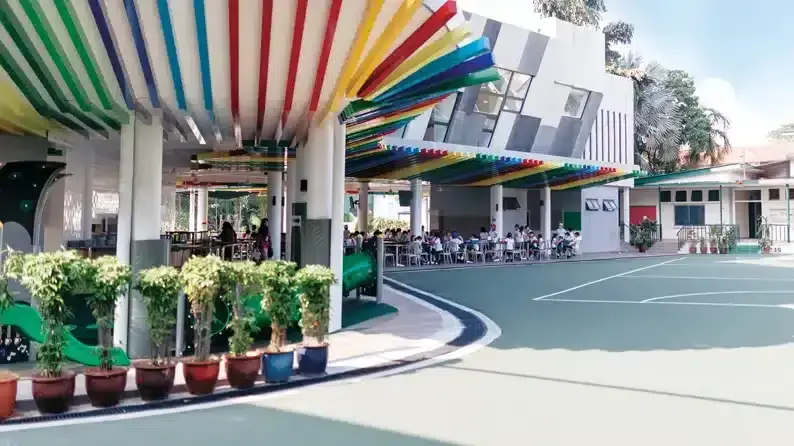 2. Garden International School
One of the best international schools in Malaysia in KL is Garden International School, which opened its doors in 1951. It is a launching pad to some of the top universities in the world and is owned by the successful Taylor's Schools group.
The 2,200 students represent 70 different nationalities, with 65% of them being foreigners, including a sizable number of South Koreans and Japanese. The remaining 35% are made up of elite Malaysian families, whose support for Garden School is steadfast.
GIS offers a global perspective with British roots, pushing the envelope and inspiring students academically, personally, and culturally. There are more than 200 extracurricular options available.
This academically aspirational school has a culture of extensive extra tuition that breeds high-caliber geeks. However, rather than the school itself, perhaps pushy tiger mothers are to blame.
There were Malaysian parents who frequently regretted sending their kids to boarding schools in the UK and wished they'd just sent them to GIS. Given that it is surrounded by structures and high-rise condos in a region that has experienced continuous development for the past ten years, it has a decidedly urban feel.
The school run may be difficult in areas with heavy traffic. The school entrance has undergone a thorough renovation, and the all-weather fields are constantly humming with activity.
3. Epsom College in Malaysia
Epsom College, one of the best international schools in Malaysia, opened its doors in Malaysia in September 2014 amid much fanfare. Tan Sri Tony Fernandes, chairman of the board of governors and alumnus of Epsom, is an aviation tycoon who is passionate about the success of this institution.
The college, which is located 50 acres of land in the outskirts of Bandar Enstek and is only 15 minutes from KLIA, embodies the best elements of the British Epsom ethos: academic excellence in a full-boarding setting. The teachers are kind, interested, and approachable, and the boarding houses are "nice."
With dignitary guests Prince Andrew, Duke of York, stopping by to officially open the theater bearing his name and Boris Johnson dropping by to give a speech, it has had a promising start.
There is something missing, despite the excellent exam results and the abundance of facilities, including a cutting-edge auditorium. According to our mole, the college has not expanded as anticipated, giving it an "empty feel."
In an effort to draw in new, talented students, scholarships and bursaries are plentiful. The appointment of a native Japanese housemistress results from high demand from Japan, South Korea, and mainland China.
This relative newcomer is just getting started. What most parents like about the school is its core values of respect for others, giving without expecting anything in return, working hard, protecting the environment, and humility.
Visit their website here.
4. International School of Kuala Lumpur
The 1965-founded ISKL is another significant player in the KL educational scene. ISKL is a privately funded, nonprofit institution run by parents. The new megacampus debuted in August 2018. The astounding 27 acres are situated in the center of Ampang, a goldmine for real estate.
Priority is given to students following the US curriculum and the American community, as this campus is the only one on our list to offer the American High School Diploma AP.
"Learning is stimulated, curiosity is sparked, vision is cultivated, and action is inspired," according to the campus' mission statement.
Being the first school in Malaysia to offer the increasingly popular IB and receiving accreditation back in 1992, the school is truly international and visionary.
This high-tech education hub is culturally aware and rooted, with a globally connected, innovative vibe permeating the atmosphere. ISKL, which has some of the top IB results in Malaysia, is a cool place to be smart.
Ivy League colleges, liberal arts colleges, Oxbridge, the Russell Group, universities in Canada and the Netherlands, and other universities around the world are among the options available to students for higher education.
All high school students are required to participate in the Global Action Programme, which emphasizes outreach and enrichment, and to learn about and support their "Asian Neighborhood" (GAP). At the ISKL, sports are fantastic, and every team promotes an inclusive culture.
5. Kolej Tuanku Ja'afar
Three members of the royal family of Negeri Sembilan are responsible for creating Kolej Tuanku Ja'afar. It was inaugurated in 1990 by the formidable Margaret Thatcher's husband, Denis Thatcher, and the then-Minister of Education, Anwar Ibrahim, ensuring a historical retrospective home run.
KTJ, one of the best international schools in Malaysia, is located 60 kilometers south of KL and encompasses an idyllic 80-acre landscape. The campus has grand entrance halls and is impressively constructed in the neoclassical style. The long, palm-lined, white original buildings have generous verandas that are shaded from the sun, and the outdoor corridors give them a scholastic feel.
The Waterfront, a new 20,000 square foot structure devoted to music, art, and specialized technology subjects, opened its doors in July 2018. The majority of the students are from South Korea, Malaysia, and Indonesia.
The majority of the local staff has degrees from outside the country, with 40% of the teachers hailing from the UK. The school gets top marks for manners, according to visitors. Despite it being 35 degrees outside, students are friendly and proudly wear their red blazers to class.
There is no denying that this is a high-achieving environment; the junior school is expanding and the A-Level results from last year were a magnificent 89% A*-B grades. Most KTJ graduates enroll in universities in the United Kingdom, United States, Australia, and Ireland.
6. Sri Kdu International School
Although SKIS, one of the best international schools in Malaysia, has a curriculum that is primarily British and a faculty that is 60% British and 30% foreign, it is realistic about its target market. "Malaysian Hearts, Global Minds" is the campus motto at KDU.
High-quality British education is provided by SKIS, which also encourages students to make a difference in the world while incorporating Malaysian culture and global perspectives.
SKIS benefits from Paramount Education's well-established track record for academic excellence, personal growth, and pastoral care emphasis.
Our morning coffee insider reports of delighted parents who are happy they are getting value for money with committed British expatriate teachers, solid pastoral support, a bonanza of extracurricular activities, wonderful facilities, and most importantly the golden chalice which is solid good grades for international university entrance.
7. The International School of Penang (Uplands)
The past ten years have seen a revival in Penang. Local and foreign investments have poured in, giving the area new life and attracting hip, creative people.
The 1950s saw the founding of the International School of Penang (Uplands), one of the best international schools in Malaysia.
Since moving to its current permanent location in 2006, the four acres have been set up around a garden courtyard with contemporary structures and amenities. The motto of this small, multicultural school, "Respect for self, respect for others," lends it an approachable air.
With 89% A-C results at IGCSE, it performs well on exams for a relatively small school. The IB results are even more impressive, with a very respectable 35.5 points average at IBDP and 22% of school-leavers scoring 40 points or higher.
In a safe gated neighborhood near the school, there is boarding that is offered as a home away from home. A matron is on duty 24 hours a day to support and oversee boarders.
Uplands takes a flexible approach to boarding, letting students board while their parents are away or traveling, during exam times to encourage uninterrupted studying, and even on occasion for sleepovers. A joyful school all around.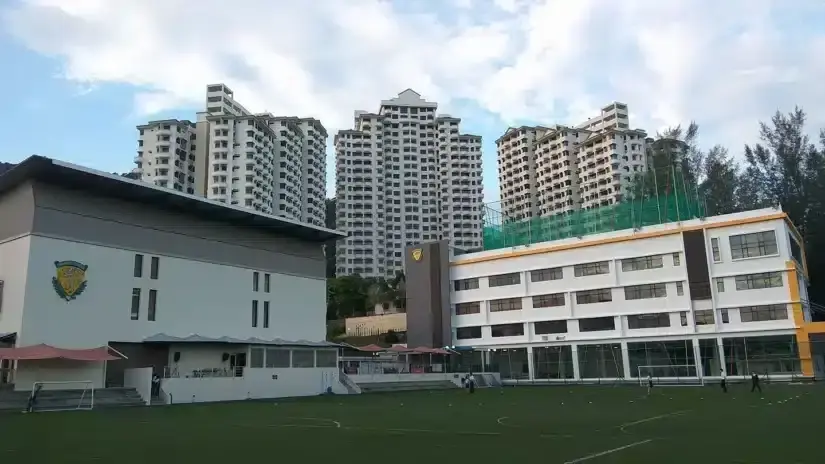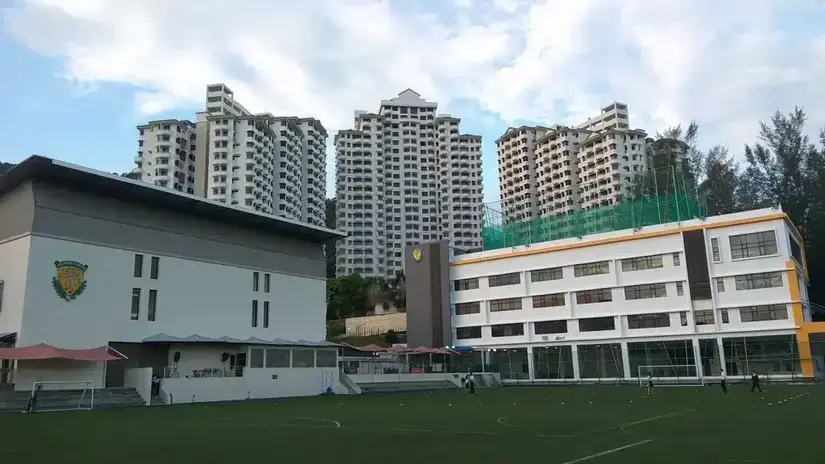 8. Marborough College Malaysia
The atmosphere at Marlborough College Malaysia (MCM), one of the best international schools in Malaysia, is very positive. The college describes itself as a "natural extension" of its renowned Wiltshire sister school and incorporates many of its ethos and core values.
Just 20 kilometers from the Singapore border and 3.5 hours' drive from KL, it is situated on 90 rolling acres. With a robust house system and the Marlborough tradition's guiding principles of compassion, companionship, and conversation, the tropics have successfully adopted it.
From the crack of dawn until lights out, the whole campus is humming with activity. IBDP results appear to be a little sporadic, but IGCSE results are excellent. It has been reported that some students have achieved outstanding results, with 17% of the graduating class scoring 39 points or higher, but the average IB score is not yet known.
Congratulations to the Careers and UCAS departments for helping students secure good university offers and positions in the UK and the US. Claire Bridgman, Head of Sixth Form, deserves special recognition for being "amazing and indispensable."
The layout of the cricket field, athletic fields, two swimming pools, boarding houses with their own tennis courts, and fantastic facilities is exquisite.
Jasmin Surif, a student in her ninth year, won the runners-up prize in the prestigious poetry competition Never Such Innocence, which received more than 6,700 international entries.
Along with cups and medals for outstanding musicians and performers, display cabinets are crammed with gleaming sports trophies. In the Malaysian-Singaporean school scene, MCM has undoubtedly gotten off to a very promising start.
9. The British International School of Kuala Lumpur
The Nord Anglia Education Group owns 56 foreign schools spread across 27 nations, including the British International School of KL. BSKL only started operating in 2009, so it is comparatively new.
With such a rapid increase to more than a thousand students, its popularity speaks for itself. The secondary school, which is located nearby, was finished in 2016, and the entire campus is attractive from an architectural standpoint.
It has an Olympic-size swimming pool at its center and a modern, open, and spacious feel. The 650-seater black box auditorium, music rooms, science labs, and "creative break out spaces" are all impressive.
Janet Brock is leaving her mark; in 2016, the Independent Schools Inspectorate gave the school an overall rating of "excellent," which is unheard of in Malaysia but comparable to that of many of the best independent schools in the UK.
The outstanding academic results from 2018 must make teachers giddy with happiness. A staggering 50% of students who graduated from high school last year earned A* or A grades, and 87% were accepted into top-tier universities around the world.
Parent insiders adore BSKL's growing sense of community. Christmas gift-giving and charity drives are enthusiastically supported, and the annual winter and summer fairs are not to be missed. Gotta love those striped shirts in bright yellow.
10. Mont'kiara International School
MKIS, an American international school and one of the best international schools in Malaysia, was established in 1994 and is conveniently situated on a 6-acre campus in the affluent and prestigious Mont Kiara neighborhood.
With only 650 students in total across all year groups at MKIS, the school is surprisingly small, with Americans making up the majority of the student body at 19%.
Eighty percent of MKIS students live nearby, which has helped to maintain a steady student body, but declining enrollment suggests that some students are leaving for the competition.
It is puzzling why MKIS charges the highest tuition of any Klang Valley school, but the inside scoop is that there is unhappiness with the way this privately run institution is run.
Investigations have revealed that despite an active parents association, there does not seem to be a board of governors or a very transparent approach to governance.
Let's hope the Laboski can turn things around and entice students back because MKIS is struggling to maintain its position at the top of Malaysia's private international schools.
Positively, in 2018 the average IB score increased from 29.85 points in 2017 to a much more reliable 33 points. Students today adore their time at MKIS. There are numerous clubs, including a bustling Model UN society.
The school is equipped with a 25-meter pool, numerous sports courts, gyms, a brand-new climbing wall, and a courtyard that is already proving to be very popular.
United States, United Kingdom, Australia, Malaysia, South Korea, and Canada are among the countries where students go to college.
11. Tenby International School
To serve British expatriates in Ipoh, Tenby Schools, one of the best international schools in Malaysia, first opened its doors in 1960.
They have since expanded into one of the largest networks of private international schools in South-East Asia, with six purpose-built campuses spread across Peninsular Malaysia.
One of the few educational organizations in the nation, Tenby operates a dual-stream system that combines the best of domestic (Sekolah Sri Tenby) and foreign (Tenby International School) education.
With the help of this special model, it can be guaranteed that their campuses are multicultural spaces where students can learn about a wide range of viewpoints and become well-equipped to succeed in a globalized society.
12. Erudite Academy
The primary and secondary campuses of Erudite Academy are separate and separated by one minute's walk. The fact that the two schools are in different places means that they each have a distinctive identity.
Erudite places a strong emphasis on student equality. They want all students to share the same values, regardless of caste, community, status, or background. The school works to foster friendly interpersonal interactions so that students can learn how to cooperate and respect one another.
13. Maple Leaf Kingsley International School
Maple Leaf Kingsley International School, also known as Kingsley, is a domestic international school that has won the respect of parents in Malaysia and abroad. It was founded in 2011.
According to Kingsley, great teachers are the foundation of great education. Each Kingsley teacher serves as a role model in a variety of ways, and this is made possible by providing teachers with countless chances to develop both personally and professionally.
When Maple Leaf Kingsley International School's teachers are encouraged, those under their supervision are also encouraged.
14. Eaton International School
The 2013-founded Eaton International School aspires to set the standard for "schools of the future" throughout Asia Pacific.
Eaton provides an international education that focuses on creative and individualized learning, sound academic rigor, and an inspiring and enjoyable learning experience.
Eaton is led by its founders, who have over 25 years of educational experience and a track record in developing and managing private and international schools.
15. Fairview International School
The largest network of IB World Schools in Malaysia is Fairview International School, which has campuses in Kuala Lumpur, Subang Jaya, Ipoh, Penang, and Johor Bahru. Additionally, Scotland hosts the international school.
While all of the IB World Schools in Malaysia are accredited and provide high-quality education, this school is a candidate. The oldest and largest IB school in Malaysia, Fairview Kuala Lumpur, is the organization's flagship institution.
The Fairview International School in Malaysia is renowned for its academic prowess, moral integrity, and opportunities for a lifetime. The institution, which opened its doors in 1978, is one of Malaysia's most reasonably priced international schools and provides a thorough IB curriculum.
Since its founding, Fairview has fostered thousands of children from some of Asia's finest and most influential families, earning recognition as one of the top 10 international schools in Malaysia from numerous well-known educators worldwide.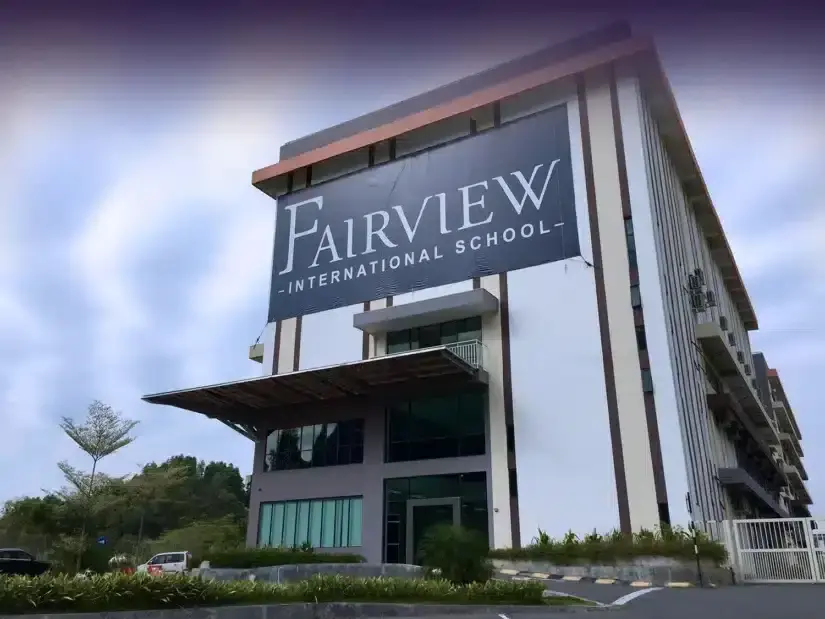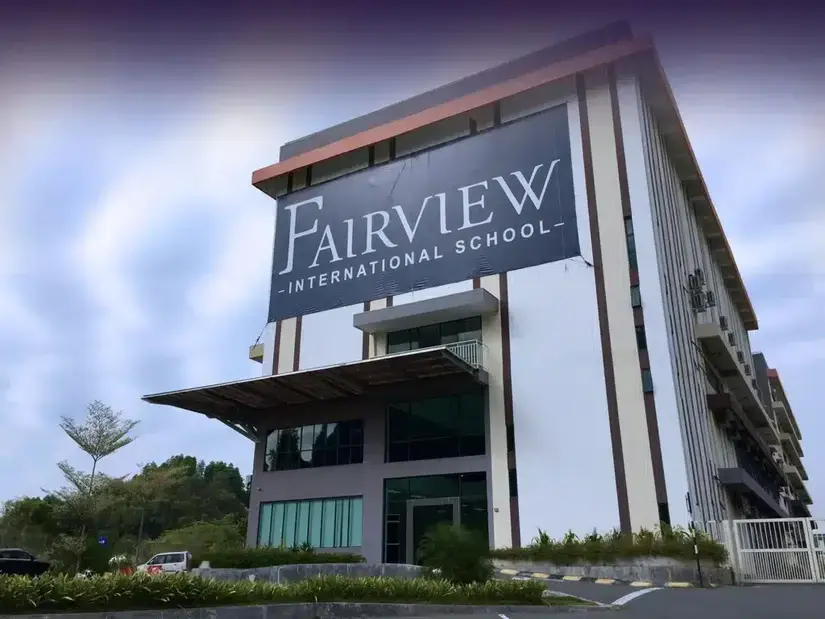 16. Beaconhouse Malaysia
In 2004 Beaconhouse Malaysia Sdn Bhd, one of the best international schools in Malaysia, was founded to run schools in Malaysia.
There are currently 13 Beaconhouse schools in Malaysia, all of which are located in or near the Klang Valley. Eight of these are preschools, and the primary and secondary schools that follow the National Curriculum are Beaconhouse, Sri Lethia, and Sri Murni.
In particular, Sri Inai International was a significant acquisition that established Beaconhouse on Malaysia's educational scene.
The school, which was constructed on 2.5 acres of prime land only 15 minutes from downtown Kuala Lumpur, has a global curriculum that is on par with international standards.
17. R.E.A.L School
In 35 years, REAL Schools has evolved from a private institution operating out of a rented bungalow to three sizable campuses in Shah Alam, Johor Bahru, and Cheras that provide both international and domestic curricula.
Over 25,000 students have graduated from REAL schools during that time, many of whom have landed spots at prestigious universities like Cambridge University.
As one of the forerunners in character education and the all-rounder educational model, REAL Schools now provide, in addition to their traditional emphasis on excellent teaching in all academic subjects, an expanded curriculum that includes programs to teach their students "Real World Skills" and give them guidance and experiences to help them discover themselves and the 4IR world, as well as find a career path that will resonate.
18. Oakbridge International School
At Oakbridge International School, we provide the most up-to-date 21st-century adaptive learning along with STEM courses (STEM). The knowledge and applications to the real world will benefit learners.
In a novel approach, Oakbridge uses STEM to introduce students to critical thinking. Students are pushed by STEM education to think and act creatively to overcome constraints.
Additionally, this method gives students the necessary tools for the 21st century, such as problem-solving, critical thinking, teamwork, digital literacy, and other pertinent skills.
19. Matrix International School
There are three Matrix Global Schools, and Matrix International School is one of them. The two additional institutions are Matrix International Preschool and Matrix International Private School.
Even though all three of these institutions are on the same campus, they all take different approaches to education. To make sure that they leave Matrix International School persistent, expressive, and receptive to the ways of the world, the school makes an effort to push its students intellectually.
With its rigorous curriculum, excellent teaching from teachers, and learning from students, MATRIX International and Private School earns a spot on our list of recommendations for providing your child with a globally progressive education.
In order to ensure that your child receives the best education possible, MATRIX combines Malaysian and British curricula. With cutting-edge classrooms, labs, theaters, and sports facilities, MATRIX offers your child the best learning environment for both academic and extracurricular pursuits.
MATRIX, one of the best international schools in Malaysia, differs from other schools in that it offers two distinct curricula based on your interests and those of your child. For international students and those who intend to pursue their education outside of the nation, MATRIX offers its specialized International Curriculum, which is tailored for global competitiveness.
Additionally, MATRIX offers a combination of the international and Malaysian national curricula so that students can learn about globalization while also gaining exposure to Malaysia's national culture and core subjects.
Pained by financial indecision? Want to invest with Adam?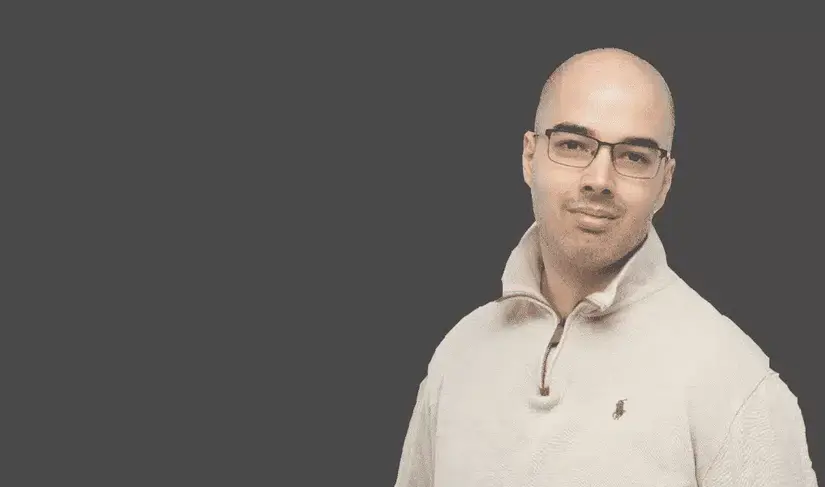 Adam is an internationally recognised author on financial matters, with over 588.1 million answers views on Quora.com and a widely sold book on Amazon and a contributor on Forbes.
Tags
19 Best International Schools In Malaysia
,
Alice Smith School
,
Beaconhouse Malaysia
,
Eaton International School
,
Epsom College in Malaysia
,
Erudite Academy
,
Fairview International School
,
Garden International School
,
International School of Kuala Lumpur
,
Kolej Tuanku Ja'afar
,
Maple Leaf Kingsley International School
,
Marborough College Malaysia
,
Matrix International School
,
Mont'kiara International School
,
Oakbridge International School
,
R.E.A.L School
,
Sri Kdu International School
,
Tenby International School
,
The British International School of Kuala Lumpur
,
The International School of Penang (Uplands)