16 Best Online Trading Platforms in South Africa
If you are looking to invest as an expat or high-net-worth individual, which is what I specialize in, you can email me (advice@adamfayed.com) or use WhatsApp (+44-7393-450-837).
Introduction
The best online trading platforms in South Africa are covered in this article.
South Africa offers a wide variety of trading platforms. The securities offered, ease of use and service reputation should all be taken into consideration when choosing an online broker.
Consider the various trading platforms that have gained popularity in recent years if you are interested in making stock market investments but do not want to hire a stockbroker to handle the work for you.
By using a trading platform, you can access trading resources while maintaining total control over your investments.
These platforms operate online, so as long as you have access to the internet, you can access your investments from anywhere at any time.
As a result of the slight differences between each trading platform, options and advantages might not be the same.
Before making a choice, it is crucial to weigh all of your options.
16 Best Online Trading Platforms in South Africa
1. Interactive Brokers
The best among the best online trading platforms in South Africa is Interactive Brokers.
The 1993-founded Interactive Brokers provides access to shares, options, forex, futures, bonds, and funds on 150 international markets through its trading platform.
They provide a strong suite of trading tools, making them a fantastic option for professional active traders. They are a one-stop shop for all of the needs of beginners in trading.
Low trading costs are combined with industry-leading order execution. They offer a desktop trading platform (Trader Workstation), a web application, and IBRK mobile for their trading platform. Both novice and seasoned traders can benefit from the robust and adaptable interactive Brokers trading platform.
Order execution at Interactive Broker is among the best in the business thanks to IB SmartRouting technology.
2. Plus500
For CFD day trading in South Africa, Plus500 is unquestionably the winner. It boasts having more than 2,000 CFDs on hand. Options, cryptocurrency, and Forex currency pairs are some of these.
Forex and CFD trading demo accounts are offered by Plus500 to traders. Research and educational resources at Plus500 are scarce. The need for extra resources will force traders to look elsewhere.
A minimum investment of $100 or £100 is needed to use the Plus500 trading platform, which provides investors with access to a wide range of products to trade.
Given the more than 30 language options available, this platform is useful for users for whom English is not their first language.
Traders can experience a stress-free and simple experience thanks to the platform's full functionality and lack of clutter.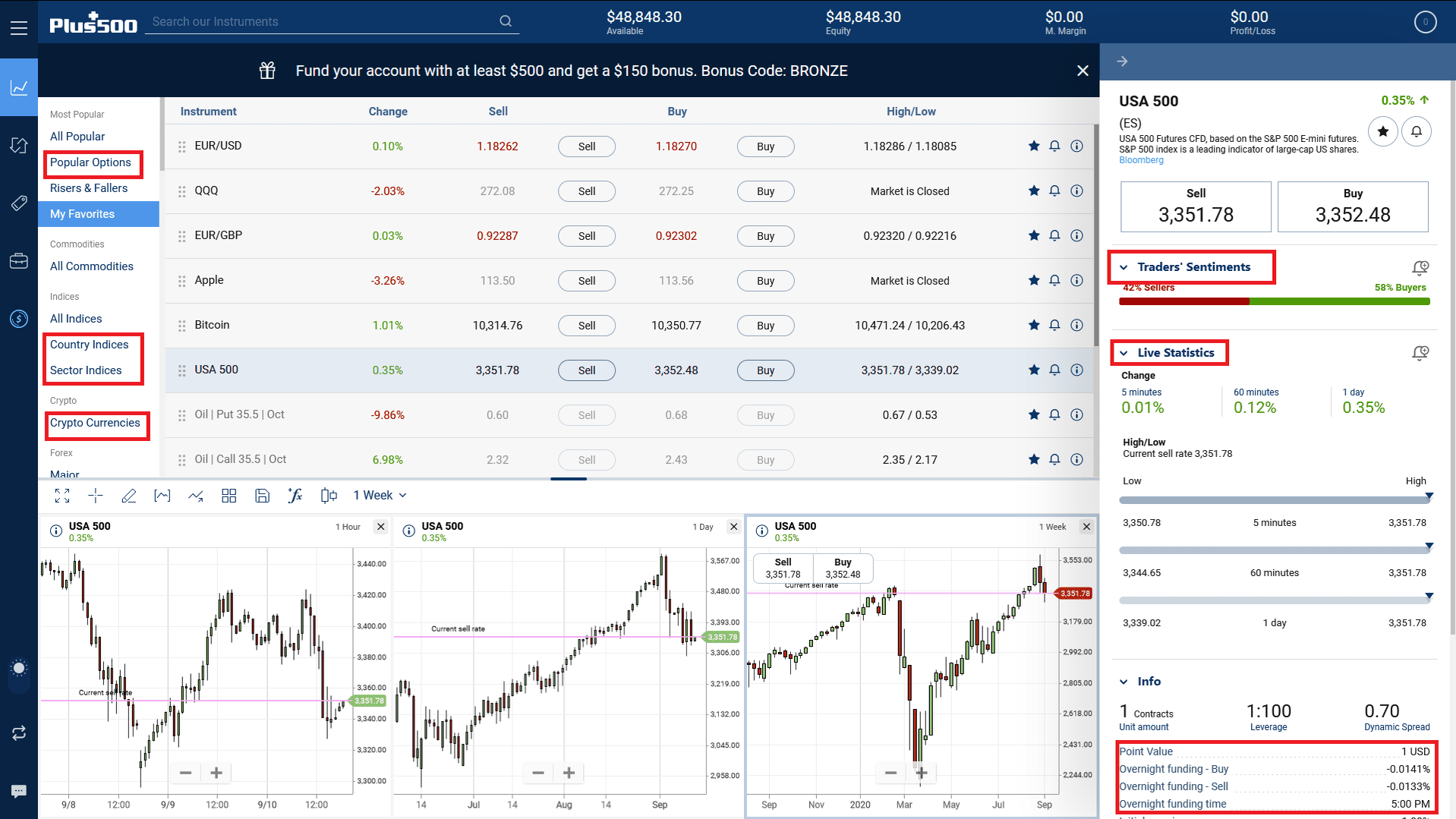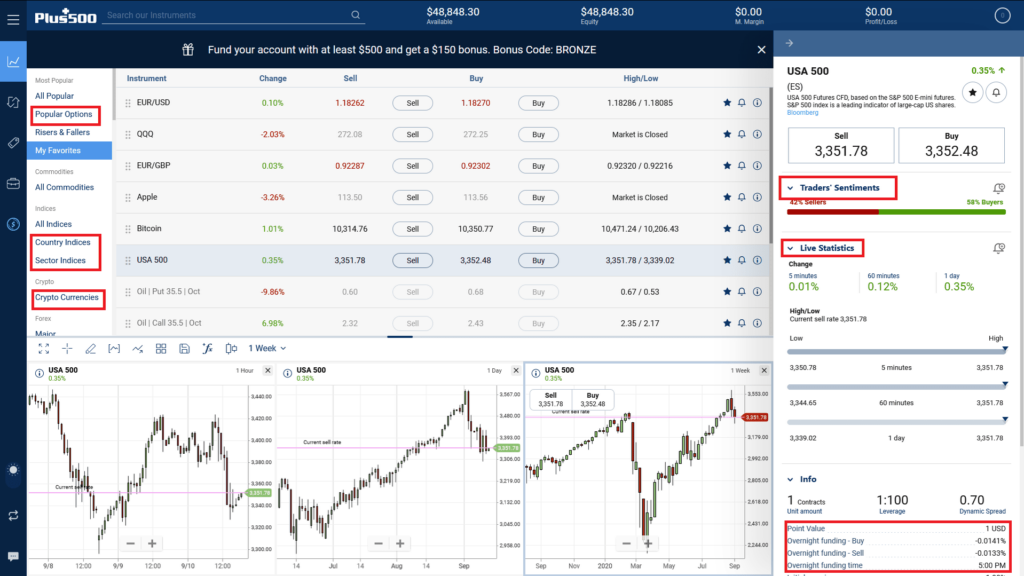 3. IQ Option
One of the trading platforms with the fastest rate of expansion and also one of the best online trading platforms in South Africa, IQ Option serves retail customers all over the world. This is a safe option for South African traders at all levels due to its solid and dependable reputation.
Forex, options, binary options, stocks, commodities, cryptocurrencies, and ETFs are all available through IQ Option.
4. Pepperstone
At its core, Pepperstone is a forex trading platform. They are excellent for forex trading in South Africa and provide a variety of CFDs.
The most notable features of Pepperstone are its broad selection of external products, including MetaTrader, cTrader, and competitive forex spreads. This gives you access to a variety of tools and the ability to crowdsource ideas.
Australian CFD stockbroker Pepperstone operates internationally and in the UK. It has produced trading apps for MT4, MT5, and cTrader, the three platforms it offers.
For those who are new to trading or are still getting their feet under them as investors, the Pepperstone cTrader app is advised. The cTrader mobile app offers an identical trading experience to the computer version.
Although this broker only allows CFD trading, Pepperstone offers social copy trading as well.
While commission fees apply to Razor account holders, they are not applicable to the standard account. Although there is no required minimum deposit, Pepperstone suggests £500.
Customers from outside of the EU and Australia are subject to withdrawal fees.
5. AvaTrade
With its headquarters in Dublin, Ireland, de was established in 2006. Forex, cryptocurrencies, and a variety of CFDs are all available through AvaTrade in South Africa.
AvaTrade makes the process of opening an account quick, simple, and entirely digital. Both withdrawals and deposits are free of charge. It has a user-friendly interface and a variety of research and learning resources.
With more than 1,000 financial instruments and numerous trading platforms, AvaTrade is a CFD-regulated broker.
According to regulations, it provides a 20% welcome bonus up to $10,000 and a free 21-day demo account with $100,000.
The Central Bank of Ireland controls AVATrade EU Ltd. Ava Trade Markets Ltd. is subject to BVI Financial Services Commission regulation (No. C53877). The Middle East, Cyprus, Israel, South Africa, Australia, and other countries have strict regulations as well.
In the United States, North Korea, New Zealand, Iran, or Belgium, you cannot trade with AvaTrade.
$100 minimum deposit, no withdrawal cap, and no additional fees.
6. XTB
XTB is best known for its affordable forex fees. XTB has a simple-to-use trading platform with excellent charting tools. But there are some drawbacks. Fees for share CFDs are higher than the industry standard. A small selection of products, primarily CFDs and Forex, are offered by XTB.
XTB is a broker you can rely on because it is properly regulated and listed on the stock market. London's Canary Wharf serves as the registered office.
XTB provides traders and investors with the chance to trade commodities, stocks, metals, forex, indices, cryptocurrencies, as well as ETFs and CFDs. It is governed by the FCA, CySEC, IFSEC, and KNF in top-tier jurisdictions.
Online account opening is simple, and traders can choose between the commission-free Standard account and the Pro account, which has tighter spreads, though there is a commission that must be paid on every trade.
You can use either MetaTrader 4 or the proprietary platform xStation depending on where you are in the world when making trades (although MT4 is not available to UK customers).
Due to its vast selection of educational resources that are organized by level (beginner, intermediate, and advanced) and its limited customer service options on weekends and holidays, XTB is a fantastic option for beginners.
For new users to practice their strategies and get accustomed to using the platforms, there is a fully functional demo account.
A wide variety of research tools, such as trading signals, technical analysis, information on various instruments, even a heat map and market sentiments, are available to more seasoned traders.
7. XM
Low stock CFD fees and simple account opening are two features of XM. A demo account is available for beginners, and there are many educational resources.
There is no investor protection for its South African customers, which is a significant drawback. XM only offers forex and CFDs, so its product offering is also constrained.

8. Capital.com
One of Capital.com's selling points is that all of its investment products are completely commission-free. In this field, it's extremely uncommon. Access to stocks, indices, foreign exchange, commodities, and cryptocurrencies is available at Capital.com.
They charge inactivity fees, but according to industry norms, these are only levied after an account has been inactive for a full year.
9. Oanda
Oanda is yet another fantastic option for South African investors. It has a simple user interface, strong research tools, and a wide range of technical indicators. However, Oanda only offers a limited selection of investment products.
In South Africa, they provide trading in both forex and CFDs. Customer service could be improved, and it's not always available.
10. MarketsX
This trading platform is well-liked by those who are new to trading due to its exceptional user-friendliness.
The platform provides a good range of support and direction for learning the ins and outs of trading, as well as top-notch research tools.
However, when compared to other platforms, it can end up being relatively expensive with above-average fees.
11. FXCM
Although FXCM only offers a small selection of products, users who choose it as their trading platform will discover that it is appropriate for a wide range of trading styles.
The platform also offers a selection of in-depth research tools, and trading can start with just a $50 minimum deposit.
This platform might not be ideal for users who prefer a modern aesthetic because some of the features seem a little dated.
However, boards in the UK and Australia have very good control over it.
12. CMC Markets
One of the most affordable options among the best online trading platforms in South Africa is CMC Markets, which has a $0 minimum deposit and no commission on FX and CFDs.
However, they do levy transaction fees.
Investors have a wide variety to choose from with more than 10,000 assets, and the platform has consistently been recognized for its forex trading options.
Some people might be turned off by the lengthy registration process, but CMC provides demo accounts for new traders to help them become familiar with the platform.
13. IG Markets
IG Markets, a broker with a UK base, is one of the most well-known names among the best online trading platforms in South Africa.
Although there is a minimum deposit required before you can begin trading, accounts can be opened with as little as $1.
Users have access to over 17,000 tradeable assets via the platform. IG has a demo account option and holds FCA, ASIC, CFTC, and MAS licenses.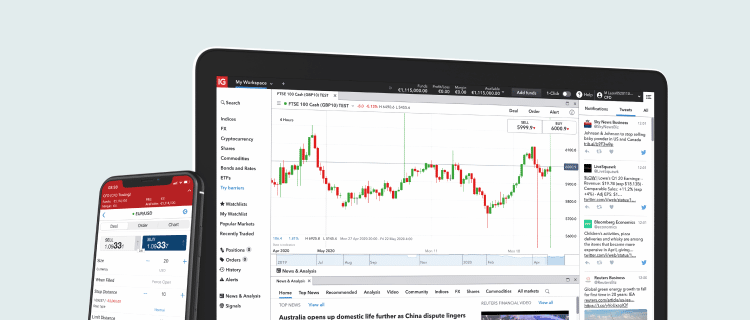 14. Hotforex
When compared to other platforms, Hotforex provides users with a smaller variety of tradeable products, which may mean that traders' options are more constrained.
However, it does provide users with a huge selection of account types. Therefore, whoever wants to can use the platform, regardless of their level of experience.
Users of the platform will benefit from features like a $5 minimum deposit, cutting-edge trading tools, and no fees for deposits or withdrawals.
Depending on the type of account, other commissions and fees may be quite high.
15. Saxo Bank
Saxo Bank may seem like one of the best online trading platforms in South Africa for someone looking for variety because of its extensive selection of more than 40,000 trading options.
The $1,000 minimum deposit requirement, however, might preclude some people from using this trading platform.
You will discover that there are numerous research and news options, zero commission, and the security of trading on a platform that is well-regulated if you can afford the high minimum deposit.
It is a great trading platform overall for those who can afford the initial investment, but it might be out of some people's price range.
16. City Index
The Gain Capital organization includes City Index. As a result, it is a member of one of the biggest global retail brokers and is one of the best online trading platforms in South Africa.
It is simple to understand why City Index is a well-liked option given its broad selection of products, numerous research tools, and excellent customer service offered around-the-clock.
However, some investors do feel that there isn't enough transparency when it comes to pricing.
When attempting to calculate or comprehend costs, this can make things challenging.
Risks of Online Trading in South Africa
The risks of trading should be understood by every novice. It's critical to conduct thorough research before investing any money.
Leverage Risk
Leverage is the act of investing with borrowed money. Leverage raises potential risk while also raising potential returns. Depending on how the position moves, high leverage entails high risks.
Margin Risk
The risk of achieving an anticipated margin is known as margin risk. This is the likelihood that shifts in economic development will have a negative impact on the anticipated cash flow from a profit margin.
Interest Rate Risk
A nation's interest rate rising results in its currency becoming stronger. The currency's value and interest rates typically increase as a result. On the other hand, a weaker currency results from falling interest rates. As a result, investors pull their money out of the market and leave the nation.
Exchange Rate Risk
Changes in an investor's home currency relative to the foreign investment currency result in exchange rate risk. Sometimes, in the 24 hours before your trade is settled, exchange rates change.
Things to Consider When Choosing the Best Online Trading Platforms in South Africa
Knowledge
The type of trading platform that would work best for you will depend on your level of experience.
A platform with a wide range of analytical tools would be helpful if you have a lot of experience in this field.
Beginner traders will discover that these platforms are better suited to them because they offer a wide variety of educational options, allowing them to pick up knowledge as they go.
Does It Fit With Your Investment Plan?
When deciding on your investment strategy, there are many things to take into account.
Do you intend to make long-term investments or short-term ones? Do you favor one investment type over another in particular?
Do you want to concentrate on making investments only in South Africa or worldwide?
There will be a platform that provides what you require; however, it is a good idea to be certain of what you want before making a decision.
Is There A Demo Account Option On The Platform?
You can practice trading with fake money by using a demo account.
Before trading with your own money, you can do this to understand how trading works and to develop your trading strategy.
Before deciding whether or not to join, it is a good way to test out a trading platform.
For those who are new to trading, demo accounts are a helpful feature.
These accounts are a great learning resource and give users the option to see how various features operate.
Alerts and Push Notifications
If you don't have the time to spend hours getting lost in the platform, you might want to pick one that offers nudges and alerts.
This could imply that you set limits and the platform automatically executes orders on your behalf.
Customer Support
The quality of customer service will differ from one platform to another.
Some companies provide support seven days a week, around-the-clock, using a range of channels like phone and web support.
Others will only be open during regular business hours, and they might advise contacting their support teams via email.
A platform with more options for support may be helpful if you are very new to trading or have trouble using technology.
Ease of Use
Regardless of the platform you choose, make sure you can easily navigate it.
Since each will be made slightly differently from the others, you'll discover that some are more appropriate for you than others.
Find one that offers demo accounts if you are unsure which one will be the best for you so you can try it out before you decide to invest your own money.
Educational Resources
Various platforms will provide educational materials at various levels.
Others will cater to more seasoned investors who want to deepen their understanding, while some will only offer materials that will provide beginners with the tools they need to get started.
In general, choosing a platform that provides both is a good idea.
In this manner, even a complete beginner will be able to get started; after learning the fundamentals, you will learn more.
Security Features
A high level of security is necessary because you might be investing sizable sums of money.
Whichever platform you decide on, you should make sure that it at least requires a two-step authentication procedure.
Some mobile app platforms will also provide fingerprint or face recognition as an additional security measure.
Final Thoughts
This is a good place to start, but it is by no means a comprehensive list of all the traders in South Africa.
You can choose the kind of platform that will best meet your needs by starting your research here with the traders mentioned above.
Pained by financial indecision? Want to invest with Adam?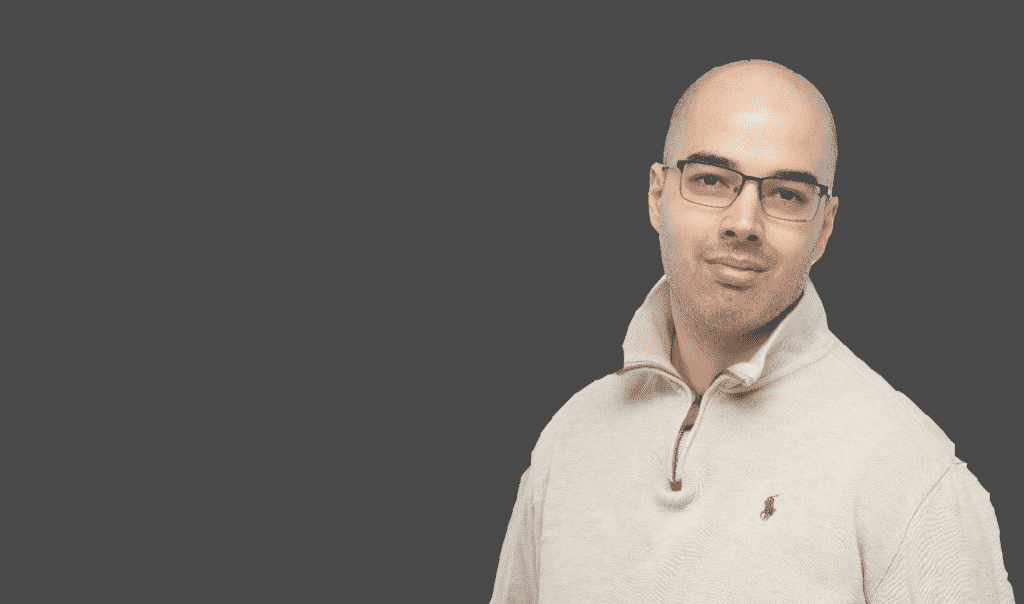 Adam is an internationally recognised author on financial matters, with over 584.6 million answers views on Quora.com and a widely sold book on Amazon and a contributor on Forbes.
Tags
avatrade trading platform review
,
best DIY trading platforms in south africa
,
Best Online Trading Platforms in South Africa
,
capital.com trading platform review
,
City Index trading platform review
,
CMC Markets trading platform review
,
FXCM trading platform review
,
Hotforex trading platform review
,
IG Markets trading platform review
,
Interactive Brokers trading platform review
,
IQ option trading platform review
,
MarketsX trading platform review
,
Oanda trading platform review
,
pepperstone trading platform review
,
plus500 trading platform review
,
Saxo Bank trading platform review
,
Things to Consider When Choosing the Best Online Trading Platforms in South Africa
,
top trading platforms in south africa
,
trading platforms review
,
what is interest rate risk
,
what is leverage risk
,
what is margin risk
,
xm trading platform review
,
xtb trading platform review