National Bank Direct Brokerage Review
If you are looking to invest as an expat or high-net-worth individual, which is what I specialize in, you can email me (advice@adamfayed.com) or WhatsApp (+44-7393-450-837).
Introduction
Here's a National Bank Direct Brokerage review for you.
Securities broker National Bank Direct Brokerage provides access to self-directed trading of stocks, bonds, Exchange-Traded Funds (ETFs), options, and GICs.
Questrade, Wealthsimple Trade, Qtrade, and the big-five bank brokerage platforms are among the online brokerage services that National Bank Direct Brokerage has as strong rivals.
The first bank-owned brokerage in Canada to do so was National Bank Direct Brokerage, which recently eliminated trading commissions on stock and ETF trades.
This National Bank Direct Brokerage review looks at its costs, features of the trading platform, and pros and cons among others.
What is National Bank Direct Brokerage?
A platform for trading securities, National Bank Direct Brokerage gives you access to self-directed trading for a variety of securities. It is the trading platform division of National Bank Financial Inc., which is a subsidiary of the National Bank, Canada's sixth-largest traditional bank by assets.
The platform's website does not state its founding date, but at the time of writing, it had only started rebranding itself by introducing the most aggressive online brokerage fee structure in the Canadian market.
Since commissions for all online trades on securities listed in Canada and the US have been completely eliminated, National Bank Direct Brokerage has effectively emerged as the only direct brokerage company associated with a significant Canadian financial institution.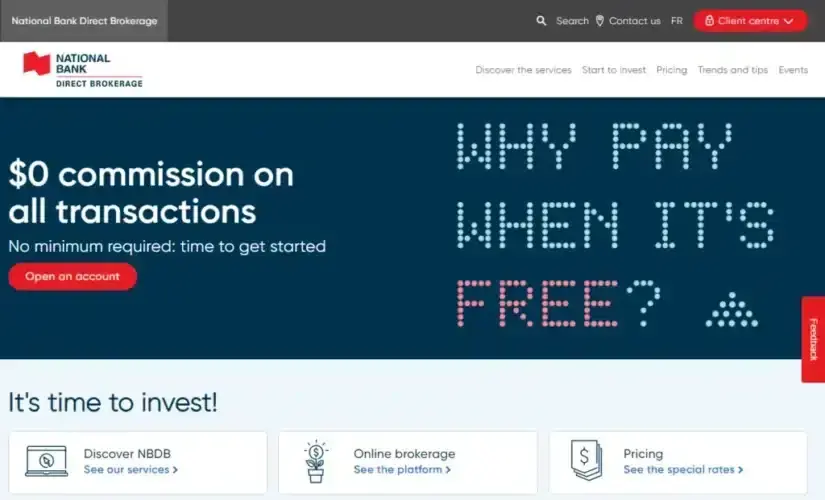 How is National Bank Direct Brokerage Performing in 2022?
With its policy of charging $0 commissions on all stock and exchange-traded fund (ETF) transactions made on its platform, National Bank Direct Brokerage is making a serious play to become the best Canadian online broker.
That is a significant effort to differentiate itself from the competition and make investing more approachable for everyone.
Having a great year is National Bank Direct Brokerage! Although the financial institution entered the discount brokerage market in 1987, its subsidiary has operated under its current name since 2008.
The competition will need to pay close attention as a result of the recent announcement about $0 commissions, which is likely to have a snowball effect on the market.
The services provided by National Bank Direct Brokerage are now among the most competitive in the Canadian market thanks to its new pricing structure.
For all online trading in the Canadian and American markets, it is currently the only Canadian bank-affiliated company to do so.
In the past, the company charged $6.95 for each stock transaction and only permitted commission-free ETF trading for customers who bought a minimum lot size of 100 shares. To put it mildly, a significant improvement!
The objective of National Bank Direct Brokerage is to change the status quo. Now there is a new chance for self-directed investors to invest cheaper. This new $0 pricing will undoubtedly be welcomed by Canadians, and it will probably inspire other online brokers to follow suit.
Pros and Cons of National Bank Direct Brokerage
The pros and cons of this trading platform are as follows:
Pros of National Bank Direct Brokerage
No commission is charged for stock and ETF transactions.
Provides a large selection of accounts and investment products.
owned and run by a highly respected bank
Cons of National Bank Direct Brokerage
Costs go up due to annual inactivity fees.
long lines at the customer service desk
Exchange rates that are incredibly poor (2.5% for US stocks)
Inefficient portfolio analysis tools
National Bank Direct Brokerage Accounts
You have a wide range of options when it comes to the types of accounts you can open through the online trading platform.
With NBDB, DIY investors can open numerous registered and non-registered accounts.
Personal non-registered accounts can be used for short-selling, margin, and cash.
The various account types available on the platform are listed below:
Opening investment accounts is another option available to companies and organizations. These accounts can be a partnership, association, sole proprietorship, or trust accounts.
Estate, investment club, and individual pension plan accounts are additionally accessible.
National Bank Direct Brokerage Products
The platform gives investors access to a range of investment products for their portfolios, such as:
Stocks (Equities)
ETFs
Options
Bonds (government, corporate, and municipal)
Exchange-Traded Debentures
Guaranteed Investment Certificates (GICs)
Linked notes
National Bank Direct Brokerage Trading Platform
The platform and the user experience it provides will be covered in this section of the National Bank Direct Brokerage review. The bank has technically joined many other trading platforms in the disruptive fintech space.
NBDB is essentially only accessible as a desktop web application. The brokerage does not currently have any desktop or mobile applications.
You are given access to an interface on the web-based platform that has practical technical and fundamental analysis tools. The analysis tools, however, are not as good as those on many other trading platforms.
It does, however, make it simple for you to set up watchlists, alerts, real-time market data, and other things. If you need technical analysis or investment ideas, you can access Recognia.
The bank should make investments in modernizing its platform and enhancing new customer onboarding. Although it seems less likely given that the NBDB change essentially reduced the brokerage platform's revenues.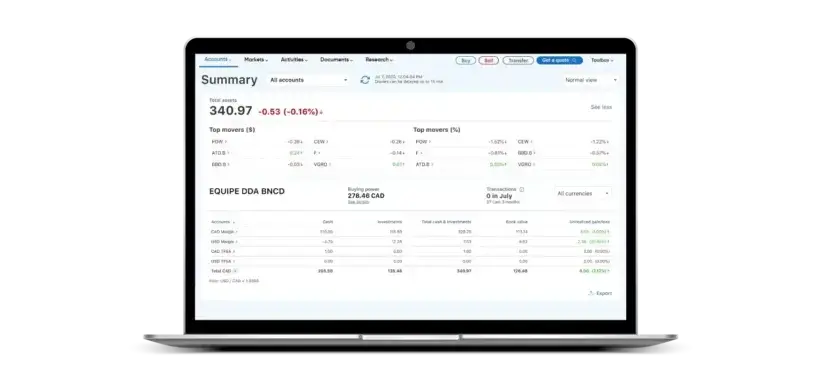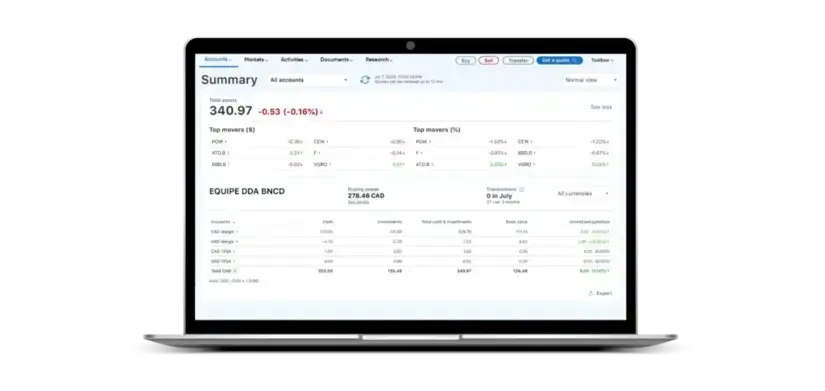 New Features of National Bank Direct Brokerage
Here are a few of the newest features you should be aware of.
Customizable Options
When using a broker's platform, it's important to "feel at home." You can now select your preferred login page and which accounts should be displayed by default when you log in. It's entirely up to you.
Comparison Tool
To assist you in making decisions, you can now compare and contrast up to four stocks, ETFs, or mutual funds. Additionally, you have access to the asset classes, management costs, and returns for each.
Top-Performing Stocks
You can check out your portfolio's stocks that have the biggest daily variation in dollars or percentages in the Top Movers section. You are able to determine which stocks have the biggest influence on your holdings thanks to this.
Market-Q
It usually costs extra to use this interface, which has four levels. You can view and keep track of stock quotes in real time with Level 1 for free if you execute at least 10 trades per month.
The fact that up to 20 dynamic watch lists of 200 stocks can be managed, along with the ability to design personalized dynamic charts, will be welcomed by the most active investors. Advanced features for fundamental and technical analysis are accessible with the subscription.
Recognia
With the help of this collection of tools, it is simple to look for stocks that meet particular criteria and might reveal securities that the market has undervalued.
Detecting bullish or bearish signals, validating specific investment choices, and looking for new investment opportunities are additional features.
ETF Centre
Although the ETF Centre is not a new feature, it is still important to be aware of given the expansion of these affordable products.
You can use the tool to choose ETFs based on your own preferences, such as industry, management style, annual fees, underlying assets, performance track record, etc.
The ones that fit your needs can be found with ease. Along with the characteristics and makeup of each ETF, you'll also receive real-time quotes for the ETFs you're thinking about.
National Bank Direct Brokerage Fees
The various expenses related to using the trading platform that you can anticipate accumulating are covered in this section of National Bank Direct Brokerage review.
National Bank Direct Brokerage Trading Fees
The first Canadian brokerage platform to offer $0 commissions on all trades for stocks and ETFs listed in the US and Canada was National Bank Direct Brokerage. However, using the platform to trade is not entirely free.
When trading stocks and ETFs through the platform, NBDB doesn't charge commissions. However, there is a $1.25 fee for each trade made in the options market, and if the transaction value is under $2,000, you must invest a minimum of $6.25 and a maximum of $19.95.
The platform also allows you to buy the majority of mutual fund products without commissions, but you will still be responsible for paying the mutual fund's Management Expense Ratio (MER) fees. Additionally, a minimum purchase of $1,000 or more is needed for the majority of mutual fund transactions.
The platform allows for the commission-free purchase and sale of exchange-traded debentures.
Expect to pay more if you want to place your orders using the conventional phone-based system. Trading stocks, ETFs, or mutual funds through the platform requires a minimum commission of $44.95, which can be paid when placing a telephone order.
National Bank Direct Brokerage Account Fees
The majority of the trading fees associated with using the platform have been eliminated by National Bank Direct Brokerage's new fee structure, but there are still significant costs associated with using the platform in terms of account fees.
A $50 fee applies to any withdrawals from RRSPs, RRIFs, or LIFs.
For any excess contributions, the platform will charge $100.
If your account balance is less than $20,000 or you do not meet the platform's requirements of being 30 or younger and making at least five trades for the trading year between June 1 and May 31, you will be charged $100 annually for account administration fees.
There is a $150 fee for any account transfers to other institutions.
Each quarter, paper statements cost $6.
Each NSF check costs $45
The average estate settlement fee is $200.
Gains and loss statements have a $50 fee per item.
Duplicate confirmations or statements are charged at a rate of $10 each.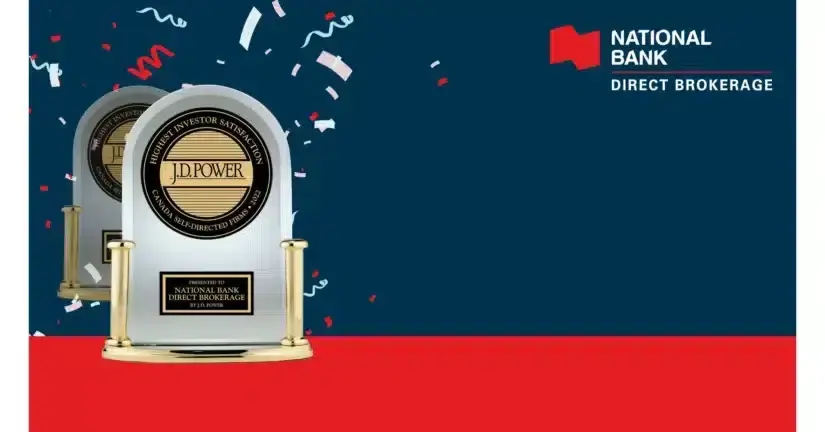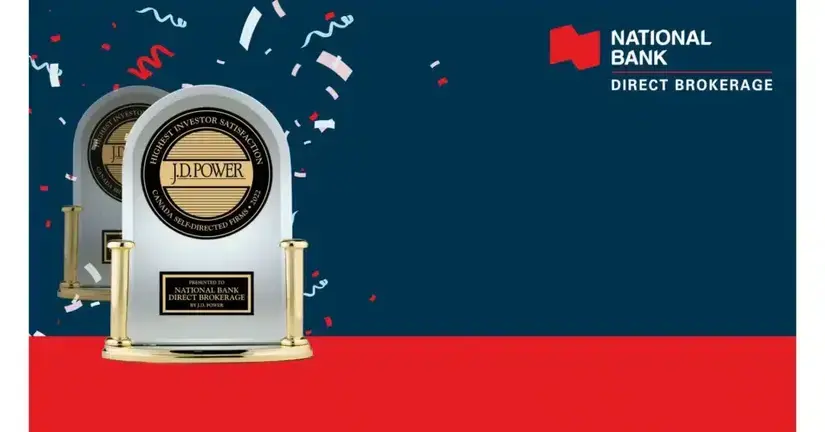 National Bank Direct Brokerage Safety and Security
Without a doubt, National Bank Direct Brokerage is an authorized, legitimate, and legal platform. It is a division of National Bank Financial Inc. and a participant in both the Canadian Investor Protection Fund (CIPF) and the Investment Industry Regulatory Organization of Canada (IIROC) (IIROC).
Any client who has an account with National Bank Direct Brokerage is automatically protected for up to $1 million in assets in the event that the fund becomes insolvent by being a member of CIPF.
That, however, is unlikely to happen. Due to its affiliation with the National Bank of Canada, NBDB has the support of one of the most important financial institutions in Canada. The National Bank of Canada was founded in 1859 and doesn't seem likely to survive.
National Bank Direct Brokerage User Experience And Customer Service
Despite being around for a while, National Bank Direct Brokerage has never performed well among Canada's top brokerage platforms.
Its low ranking can be attributed to a number of factors. Unfortunately, the main contributing factors are the poor user experience and poor customer support.
Even before switching to a $0 commission trading model, the brokerage was having trouble keeping up with the demand for customer service.
What sets National Bank Direct Brokerage apart from its rivals?
There are no restrictions or fine print, and all online stock and ETF transactions are commission-free.
Undoubtedly, this platform has a significant competitive advantage thanks to the elimination of these commissions.
It's significant to note that commission-free brokerage has gained popularity recently as a result of U.S. mobile apps like Robinhood making frequent stock trading more accessible to novice investors.
This kind of commission-free brokerage is also available in Canada through Wealthsimple, though it's primarily targeted at investors who trade using their smartphones and don't require extensive market research before placing a buy or sell order.
The largest discount brokers can benefit from the comprehensive package offered by National Bank Direct Brokerage.
This may be the reason National Bank Direct Brokerage earned the highest J.D. rating. Investor satisfaction with independent brokerage firms was analyzed in the Power 2021 study.
National Bank Direct Brokerage Review
Many people are hoping that National Bank Direct Brokerage will be the next to offer fractional share purchases after the announcement of its new pricing.
These purchases are helpful when a stock is trading in hundreds or thousands of dollars. You may have noticed that many well-liked technology stocks in Canada and the United States are currently out of reach for smaller investors.
However, the platform's usability is commendable, and the information offered is quite comprehensive. The service is being offered in a fairly open and transparent manner, most likely for the lowest price in the Canadian market.
Both novices and seasoned investors can benefit greatly from the services provided by the National Bank. Although familiarizing yourself with the platform is fairly straightforward, you must have curiosity. Explore and look around without inhibition. Repeat the action!
Other things that user like about National Bank Direct Brokerage are the following:
Without the fees typically associated with it, a major financial institution's security and regulatory advantages.
Free use of decision-supporting tools like Strategy Builder and Value Analyzer as well as research and analysis from Morningstar and National Bank Financial
The number of training sessions that are accessible to everyone, including YouTube channels and webinars
The inexpensiveness of maintaining a brokerage account.
Final Thoughts
Despite the fact that National Bank Direct Brokerage has been in operation for some time, its recent decision to fulfill the promise of commission-free trades through the platform has completely changed the game for many investors.
It's amazing to see how another Big Bank-driven trading platform has reimagined itself to compete in the fintech market for Canadian investors.
No other platform can currently compete with National Bank Direct Brokerage in terms of costs. However, I don't just recommend trading platforms based on how little money you have to spend to use their services.
The Globe and Mail continues to rank NBDB poorly and it still uses an antiquated platform without a mobile app. Undoubtedly, the platform has the ability to surpass all other trading platforms, but that may not be the case just yet.
The majority of Canadian investors use Wealthsimple Trade as their preferred brokerage because of its outstanding platform and reputation for providing the best possible overall experience.
Additionally, commission-free trades for stocks and ETFs were first made available on this platform in Canada.
Pained by financial indecision? Want to invest with Adam?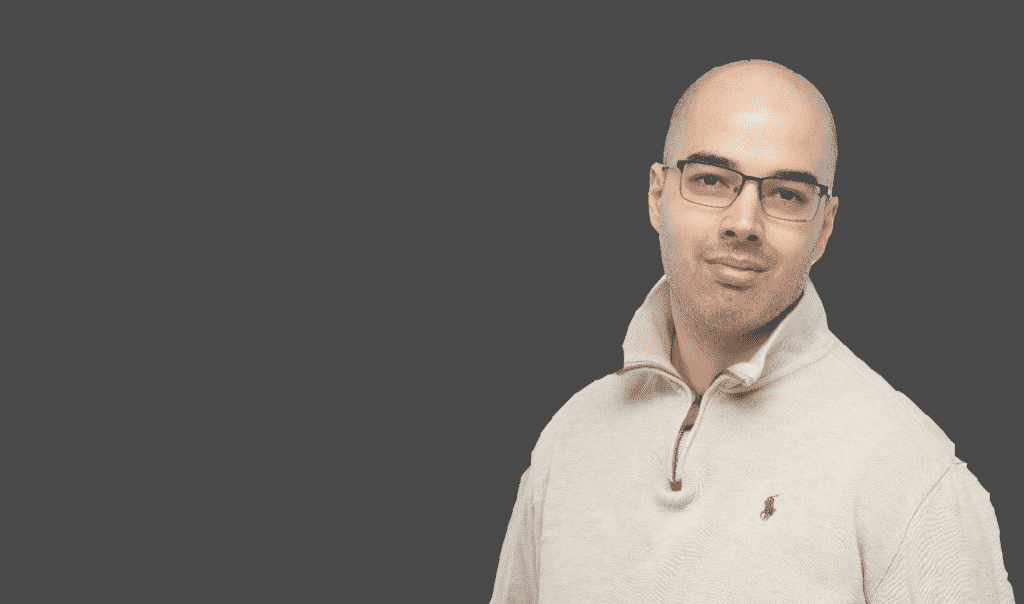 Adam is an internationally recognised author on financial matters, with over 584.6 million answers views on Quora.com and a widely sold book on Amazon and a contributor on Forbes.